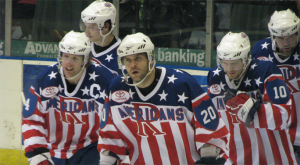 The Amerks rebounded respectably from their 6-1 loss on Friday night to close out the weekend with a 3-1 win over the visiting Adirondack Phantoms for a second straight win.  The first period wasn't pretty but for a team playing three games in three days they found a way to finish the game and pull out the win.
For the first time this season I get the impression that the team is now looking at the end goal of making the playoffs and positioning themselves in the division.
"Today was a very important game today, we tried to catch up with Hamilton and get away from Manitoba and Abbotsford and they weren't playing so we have a game in hand," Benoit Groulx said postgame.
The first period was sloppy on both sides of the ice.  It was pretty obvious that both teams were playing their third game in three nights.  The passes were sloppy.  The shots were sloppy.  If things had continued half the arena probably would have been either asleep or out the door.
The Phantoms scored first when Andreas Nodl won a battle for the puck along the boards and carried the play into the Amerks zone for a two on one break passing the puck to Jason Ward who beat Salak.
Graham Mink answered back 24 seconds later with a goal of his own to tie the game at one.  As the Phantoms were chasing the puck behind their net Jamie Johnson intercepted the puck and fed it to Mink in front of the net and he had no problems beating Johan Backlund low as he tried to make the save.
Johnson really made that play happen by intercepting the puck and quickly feeding it to Mink.
Talking about Johnson after the game Benoit Groulx said, "I think he's shown a lot of consistency since the beginning of the year.  During our tough stretch Johnson was one of the soldiers on this team that showed up every night, he's a good player."
Michal Repik scored the games last two goals, one short handed and one into an empty net.  The short handed goal at 2:52 of the third period he was rushing out of the zone when David Brine chipped it off the boards to him and he was able to beat Backlund with a shot into the top corner.
Jamie Johnson won a key face off in the final moments of the game that allowed Repik to take it down and put it into the empty net.
The defense finally played a decent game even with missing Garrison for half of it.  John de Gray seemed to play his most consistent game for the Amerks.  Jordan Henry was solid as well.
For a third game in three nights it was a good sign that the team found a way to play through the first period and come back strong enough to play through the second and third.  Too often we've seen the team lose steam as the game goes on and end up losing.
I'm confident the team is figuring themselves out now that they're back together.  If the goaltending and defensive units can stay strong we'll be in for an exciting second half.
The Amerks are back at home again on Friday night versus the Albany River Rats.
——
Adirondack Phantoms 1 At Rochester Americans 3 – Status: Final
Jan 24, 2010 – Blue Cross Arena
Adirondack 0 1 0 – 1
Rochester 0 1 2 – 3
1st Period- No Scoring.Penalties-Henry Rch (tripping), 5:05; Dingle Adk (slashing), 8:40; Kalinski Adk (tripping), 17:19.
2nd Period-1, Adirondack, Ward 7 (Nodl, Kalinski), 10:14. 2, Rochester, Mink 11 (Johnson), 10:38. Penalties-Stephenson Adk (hooking), 3:51; Mormina Adk (tripping), 7:34; Mink Rch (slashing), 16:30.
3rd Period-3, Rochester, Repik 15 (Brine), 2:52 (sh). 4, Rochester, Repik 16 (Wilson, Johnson), 19:59 (en). Penalties-MacIntyre Rch (tripping), 2:37; served by Bellamy Adk (bench minor – too many men), 8:33.
Shots on Goal-Adirondack 7-9-9-25. Rochester 8-11-10-29.
Power Play Opportunities-Adirondack 0 of 3; Rochester 0 of 5.
Goalies-Adirondack, Backlund 12-9-1 (28 shots-26 saves). Rochester, Salak 21-6-0 (25 shots-24 saves).
A-2,810
Referees-Ghislain Hebert (49).
Linesmen-Dan Murphy (21), Peter Feola (33).