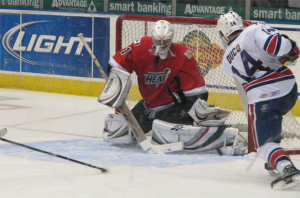 There's only one way to describe most of Friday nights Rochester Americans game and that is with the word boring.  The players and coach seem to disagree so I could be wrong.  The scoreboard says that the Amerks only lost by one goal but there's a lot more to it than that.  It took the Amerks 49 minutes and 54 seconds to score their first goal and 59 minutes to score their second goal.  Former Rochester American goalie David Shantz made 28 saves to lead the Abbotsford Heat to a 3-2 win.
Any time this team goes down by two goals it seems as if every bit of confidence walks off the ice and some fans seem to agree by leaving as well.  When the Amerks are down after the second period (like most teams) chances are it's not going to work out.  This season when trailing after two periods the Amerks are 2-16.
"Obviously it's very disappointing losing no doubt about it but we did many good things defensively and we had 17 (scoring) chances against 7," Benoit Groulx said after the game.  "We have to give their goalie credit."
Mike Duco had one of those 17 scoring chances in the second period (shot pictured above).  Jamie Johnson fed him the pass but David Shantz put his pad down and made the save.
Getting the early lead, staying close, or keeping the game tied is something that the Amerks continue struggled with.  Another area they've struggled is on defense but things seem to be improving in that end, or so they say.
"We implemented a new system this week in our practice, we're giving up less shots and less chances and getting the puck out more," Michael Caruso said.
Benoit Groulx talked about the defense saying, "I thought defensively we did a great job, they scored 3 goals but we didn't give much.  It was the lowest chances we allowed this year, 7 scoring chances against."
Starting with the game in Adirondack on Wednesday night the Amerks changed their defensive system to start playing lower in their zone and not giving the opposition as many scoring chances.  He said that they know they don't have the depth on defense and knew the defense needed more help which is one of the reasons they are trying the new system.  Two games down and two losses.
Finding ways to score goals on a regular basis is also an issue and it's something everyone is aware of.
"We're definitely not scoring like we were at the start of the season.  It's frustrating because the efforts there," Michael Caruso said.  Caruso went on to say, "There's no reason to freak out right now.  It's going to come, we've just got to keep doing what we're doing and it's going to come because we've got the talent."
"I think the best thing you can do is work hard," Jamie Johnson said.  "That's the way you get out of it.  Shoot the puck and work hard."
Jamie Johnson scored the Amerks 2nd goal of the game at the 19 minute mark of the third period.  With that goal he is the first 20 goal scorer of the season for the Amerks.
Clay Wilson had scored the other goal of the game prior to Johnsons at 10:06 of the third period on the power play for his ninth of the season.
"We've just got to find ways to win, get that swagger back, be almost cocky about," Johnson said.  "We know we can win, we just have to start proving it."
"They want to do good," Benoit Groulx said talking about the team.  "Sometimes when you put too much pressure on yourself instead of being relaxed you try to rush your play and don't take the split second to make the right play."
They better start making the right plays and making them fast.  There's only a difference of six points right now between second and fifth place in the North Division.  The Lake Erie Monsters are going to look to close that gap to four points when they play Rochester on Saturday night.
Reminder: Saturday nights game starts at 7:35pm. not the typical 7:05 start time.
——————
Abbotsford Heat 3 At Rochester Americans 2 – Status: Final
Feb 12, 2010 – Blue Cross Arena
Abbotsford 0 2 1 – 3
Rochester 0 0 2 – 2
1st Period- No Scoring.Penalties-served by Weller Abb (bench minor – too many men), 4:27; Wilson Rch (hooking), 17:57.
2nd Period-1, Abbotsford, Cunning 10 (Murray, Baldwin), 5:24. 2, Abbotsford, Barlow 1 (Baldwin, Kronwall), 8:32 (pp). Penalties-Fitzpatrick Rch (holding), 6:49; Baldwin Abb (holding), 15:06.
3rd Period-3, Abbotsford, Sutter 6 (Mitera), 5:39. 4, Rochester, Wilson 9 (Taylor, Repik), 10:06 (pp). 5, Rochester, Johnson 20 (Taylor, Garrison), 19:00. Penalties-Murray Abb (high-sticking), 3:26; Cunning Abb (elbowing), 8:32; Kronwall Abb (delay of game), 9:51; Murray Abb (hooking), 19:44.
Shots on Goal-Abbotsford 6-8-3-17. Rochester 7-10-13-30.
Power Play Opportunities-Abbotsford 1 of 2; Rochester 1 of 6.
Goalies-Abbotsford, Shantz 4-5-1 (30 shots-28 saves). Rochester, Salak 23-10-0 (17 shots-14 saves).
A-3,806
Referees-Chris Brown (86).
Linesmen-Derek Sylvester (76), Fraser McIntyre (94).