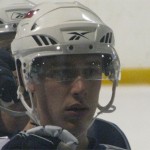 The Florida Panthers are returning to practice today to prepare for their first game following the Olympic break and in order to do that they needed some players.
Bad news for the Amerks. Probably gone for the weekend and near future the Amerks have lost Michal Repik and Shawn Matthias. For some help on offense the Amerks may want to play Daniel Steiner but in order to do that they'll have to sit Rory Fitzpatrick.
Chris Beckford-Tseu was also called up from the Florida Everblades to be a second goalie in practice. That's horrible news for the Everblades since they are now without a goalie for their game on Friday. I'm assuming they'll send him back to play this weekend.
Brady Calla was also called up to the Panthers to help fill their roster prior to the Olympic break. He has not been playing for the 'Blades because technically he has been earning a paycheck with the Panthers.
That's all for now, expect some exciting changes to the site in the next week or so!