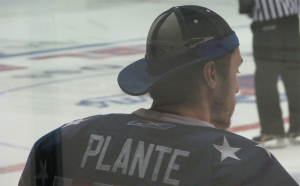 The Amerks host the Grand Rapids Griffins tonight and it's pretty simple, they need to win a Friday night home game!  The Amerks have not won a Friday night home game since November 27th when they barely held on to beat the Wilkes-Barre/Scranton Penguins.  The only game on a Friday they have won was a 6-5 shootout win over the Hamilton Bulldogs on January 15th.
We've seen glimpses over the past two weeks of a team that can play a solid game and can find ways to win.  The goal scored by Mike York with a minute left on the clock last Sunday to tie the game and then the shootout win brought a level of excitement to the bench that has not been seen in a while.  Some things came up and I wasn't able to write about the game but check out this excellent recap at Hockey O-Zone.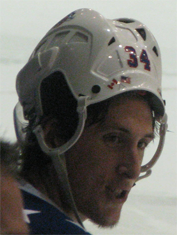 The easiest way to notice the fun level is by the rally caps that were put on by players on the bench.  Tyler Plante started it by flipping his cap (pictured) backwards and inside out.  Once the shootout started a handful of players put their helmets on backwards.  David Brine, Graham Mink, Keaton Ellerby and Steve MacIntyre were at least four of the players I had noticed.
A third period come back on February 13th against the Lake Erie Monsters was also impressive and gave the team some much needed confidence.  The key will be putting all of this together to play a solid game tonight.
One area to be concerned about is that the Grand Rapids Griffins have fallen to last place in the Western Conference.  We just have to hope that the team does not notice that and think they can coast through the game.
The only player currently injured is Andrew Sweetland who is still recovering from a concussion.  As of writing this Michal Repik, Shawn Matthias, and Luke Beaverson are still called up to the Florida Panthers.  With Repik and Matthias out it'll be interesting to see if Fitzpatrick sits so that Steiner can play tonight.
Other News from this Week… if you missed it..

If you read the site regularly you know that I stay away from "link posts" but sometimes they're necessary.  I've had a busy week away from writing about hockey so this is one of those times a list of links is needed to get caught up.
** Repik, Matthias and others called up — This hurts losing Repik and Matthias.  Hopefully they'll be back this weekend but we shouldn't get our hopes up.
** Amerks Lowering Capacity — It's easy to understand the intentions behind this but reading comments from others who're losing their seats I can also understand the other side.  It should all work out in the end, I hope.
** Jamie Johnson named player of the month for December and January — Johnson leads the Amerks in every offensive stat and is also 7th in the AHL in points.
** Amerks offer smiles and home-cooked meals to families — A positive story about some players stopping by the Ronald McDonald House.
** Amerks inducted three into Hall of Fame — A great afternoon last Sunday when the Amerks inducted three players into the new Hall of Fame located in the upper atrium lobby at Blue Cross Arena.
That should cover it for now.  It's another Friday so make sure to get to the arena early for $1 hot dogs and beers from 6-8pm and cheer on the team to a much needed win.  Lets Go Amerks!