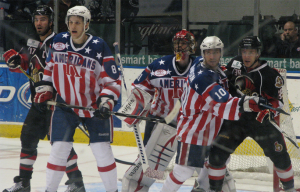 When Jeff Taffe, Jamie Johnson, and Mike York find ways to put points on the boards it's pretty much a given that the Rochester Americans will find a way to win.  Taffe scored two goals including the game winner, Johnson had one goal and one assist, and Mike York assisted on all four goals scored.
The Amerks ended the weekend with four out of six possible points which is pretty good.  If they can finish out the season winning every two out of three games I think they'll be in good shape.  The Amerks and Heat are currently tied for second place in the North Division with 70 points each and the Heat have a game in hand.
It wasn't a pretty game.  Binghamton scored two shorthanded goals.  The ref appeared to waive off what should have been a goal for the Amerks.  A number of bad and missed calls for and against both teams.
Jamie Johnson had an explanation saying, "I think every Sunday afternoon game is weird."
The Amerks had a 3-2 lead heading into the last minute of the game but Jonathan Cheechoo scored at 19:18 to tie the game and send it into overtime.  The last flurry to the net started after Keaton Ellerby failed to clear the puck out of the Amerks zone.
Jeff Taffe scored the overtime goal to give the Amerks the win.  The scores heet lists Jason Garrison and Mike York as assisting on the goal but credit should also be given to Geoff Kinrade of the Binghamton Senators.  Taffe was about to send a pass cross ice to Garrison but as he passed the puck the Senators player had swung his stick around and deflected the puck into the net.
The key thing is that even though they made a number of bad plays they still found a way to win.  The coaches and players know they made mistakes and said they'll work on a number of things this week.  The players all see the same things we do and knowing that Jeff Taffe jokingly said, "At least we didn't totally collapse."
Benoit Groulx, "I'm very happy it's over and I'm very happy we have two points."
————
Binghamton Senators 3 At Rochester Americans 4 (OT) – Status: Final OT
Feb 28, 2010 – Blue Cross Arena
Binghamton 1 1 1 0 – 3
Rochester 1 1 1 1 – 4
1st Period-1, Rochester, Henry 9 (Johnson, York), 8:51. 2, Binghamton, Smith 7 (Condra, Bass), 11:39 (sh). Penalties-Keller Bng (tripping), 6:40; Bannister Bng (roughing), 11:22; Mink Rch (holding the stick), 18:15; Oreskovich Rch (tripping), 19:39.
2nd Period-3, Binghamton, Hennessy 21 (Smith), 5:45 (sh). 4, Rochester, Taffe 21 (Wilson, York), 10:07. Penalties-Bass Bng (roughing), 2:37; Henry Rch (roughing), 2:37; Keller Bng (hooking), 4:13; Duco Rch (interference, misconduct), 7:08; Cheechoo Bng (slashing), 8:05; O'Brien Bng (roughing), 15:45; Fitzpatrick Rch (holding), 15:45; MacIntyre Rch (roughing), 15:45; Cheechoo Bng (goaltender interference), 17:37.
3rd Period-5, Rochester, Johnson 23 (Taffe, York), 12:08. 6, Binghamton, Cheechoo 3 (Bannister, Smith), 19:18. Penalties-Taylor Rch (tripping), 5:48; Bannister Bng (hooking), 8:05.
OT Period-7, Rochester, Taffe 22 (Garrison, York), 3:40. Penalties-No Penalties
Shots on Goal-Binghamton 12-11-8-1-32. Rochester 9-8-7-3-27.
Power Play Opportunities-Binghamton 0 of 5; Rochester 0 of 6.
Goalies-Binghamton, Holt 8-11-1 (27 shots-23 saves). Rochester, Salak 26-12-0 (32 shots-29 saves).
A-3,034
Referees-Ghislain Hebert (49).
Linesmen-Fraser McIntyre (94), Tim Kotyra (53).