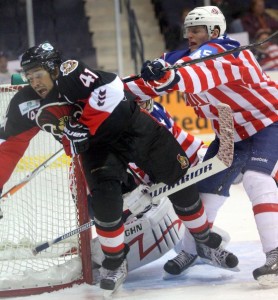 John de Gray was loaned to the Rochester Americans at the end of December when they were in need of a defensive defenseman with Rory Fitzpatrick out of the lineup injured.  They got just that in de Gray, a solid blue liner that can be relied upon.  If you're looking at the stat sheet you won't see any impressive numbers but if you've watched him play in games you'll see a defenseman doing his job.
The Anaheim Ducks drafted John de Gray in the third round (83rd overall) in the 2006 NHL Entry Draft.  In comparison, the Florida Panthers drafted Michael Caruso in the 4th round that same year, 104th overall.
He spent four seasons in the Ontario Hockey League with the Brampton Battalion playing in 253 games and tallying 10 goals and 44 assists.  At the end of his junior seasons the Ducks called on him to play in six games with the Portland Pirates during the 07/08 season, their affiliate at the time.  The Ducks affiliated with the Iowa Chops for the 08/09 which is where de Gray spent his rookie season.  In 62 games with the Chops de Gray scored two goals and assisted on five others.
When the Iowa Chops franchise was involuntarily suspended for the current season the Ducks were forced to spread their prospects around the AHL and ECHL.  One of the teams that prospects were sent to was the Bakersfield Condors of the ECHL, and that's where John de Gray was sent.
"It was tough for me at the start of the year because the year before I played a full year in the AHL and never played in the Coast," John de Gray said.  He went on to say, "I think it was good for me in some ways because I was a lot more calm.  I knew that realistically there was no where else i could go, I could not go down any further."
That calm attitude in 29 games with the Condors in the ECHL he was able to concentrate on the way he played as well.  "My play with the puck improved and my patience in the defensive zone with the puck to make a good pass improved and now I think I've been using that up here."
Things changed when de Gray was loaned to the Rochester Americans.  He was off to be part of a different part of an organization, a new team, and new players.  It was also a new set of expectations joining one of the top teams in the American Hockey League.
"As a call up for one that's tough and from a diff organization too," Amerks assistant coach Jason Cipolla said.  "He's such a great guy, such a great teammate the guys have accepted him with open arms."
"The more you get to know the guys the more you fit in," de Gray said.  "It's nice, it's my team now.  I feel like a part of the team, it's great being here."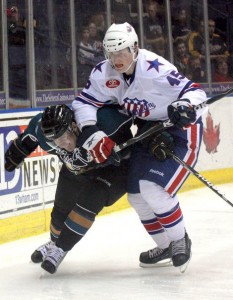 International Scouting Services had written the following about John de Gray in October 2005:
Next up in ISS's pecking order is Brampton Battalion stud John DeGray. DeGray, who is ranked 11th overall, is going to play in the NHL for 12-15 years and be a very steady, consistent, solid citizen who can anchor the blue line. He's not as dynamic as the other members of the top four, but has tremendous hockey sense and stamina, and is as reliable as they come in his own zone.
Here we are four and a half years later and the last sentence certainly holds true, he's reliable in his own zone.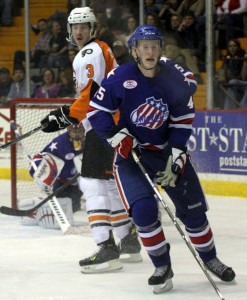 When John de Gray first arrived in Rochester he was only getting about eight to 10 minutes a game and you could tell he was still trying to adapt (a nice way of saying some questioned the Amerks acquiring him).  As the season has gone on he's become one of the teams most consistent players.  From only getting about 10 minutes a game de Gray is now getting over 20 minutes of ice time.  A lot of that ice time is also on special teams playing on both the power play and penalty kill.
The increased ice time can be attributed to doing what young players are supposed to do, improve as the season goes on.  Jason Cipolla said, "He's getting more comfortable in our system and (getting more ice time) he's like every single player that works hard and has a good attitude."
Standing 6′ 4″ tall de Gray has also started using his body more.  "As a team I think we knew if we're going to succeed in the playoffs you need to play a harder nosed game and I think we've done that recently," he said.
It's interesting to note that as I was trying to find pictures for this article that most of the them involved de Gray playing physical against an opponent.
Additional ice time for de Gray is also due in part to Jason Garrison and Keaton Ellerby currently on recall to the Florida Panthers.  With two of the top players missing from the defense the opportunity has been there for someone to step up, something that de Gray has done.
Jason Cipolla finished off with saying, "We're very happy with the way de Gray has been playing and he's going to be a very big part of our team down the stretch."
The Amerks are on the road this weekend with a game tonight against the Binghamton Senators and on Saturday against the Wilkes-Barre/Scranton Penguins.