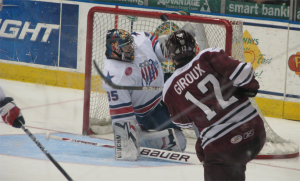 Tyler Plante made 32 saves, including this excellent save pictured above on Alexandre Giroux, to lead the Amerks to a 3-1 win over the Hershey Bears in a rare Friday night win.  A two goal performance by Graham Mink and an empty net goal by Mike York was enough for the offense to keep the Amerks ahead the entire game.
As the game went on and the 4,789 fans in attendance became more and more aware that the team could just pull out a win it became louder and sounded more like a crowd of over 7,000.  A 60 minute performance by every player on the team led to a win over the AHL's number one team, the Hershey Bears.
After the game Amerks head coach Benoit Groulx said he thought it was the teams best 60 minute performance this season.  It only took 75 games to get that performance but now is the time to do that heading into the playoffs.
Graham Mink seems to be back into his groove with two goals on Friday night and he also had two assists this past Wednesday against the Grand Rapids Griffins.
Tyler Plante said that it felt like playoff hockey and having a hockey legend by the name of Gerry Cheevers in the crowd was inspiring as well.
One thing that may have been in favor of the Amerks was the humid air in the building which resulted in slower than usual ice, it probably helped slow down the usually fast skating Bears.  It felt warmer inside Blue Cross Arena on Friday than it does during a Red Wings game in June.
If the Amerks can play like that going forward missing so many players from the lineup it will be an exciting spring watching hockey.
"It won't mean anything if we lay an egg tomorrow," Graham Mink said after the game talking about Saturdays game on the road against the Hamilton Bulldogs.
———-
Hershey Bears 1 At Rochester Americans 3 – Status: Final
Apr 2, 2010 – Blue Cross Arena
Hershey 0 0 1 – 1
Rochester 0 2 1 – 3
1st Period- No Scoring.Penalties-Joudrey Her (hooking), 3:43; Johnson Rch (hooking), 5:50.
2nd Period-1, Rochester, Mink 17 (Taylor, Dadonov), 5:05. 2, Rochester, Mink 18 (Henry, Taylor), 7:48 (pp). Penalties-Wilson Her (holding), 6:56; Wilson Rch (tripping), 8:49; Hudson Rch (delay of game), 13:03.
3rd Period-3, Hershey, Bouchard 20 (Wilson, Rome), 16:18. 4, Rochester, York 14 Â  19:54 (en). Penalties-Henry Rch (holding), 11:05.
Shots on Goal-Hershey 5-12-16-33. Rochester 5-11-7-23.
Power Play Opportunities-Hershey 0 of 4; Rochester 1 of 2.
Goalies-Hershey, Holtby 23-7-2 (22 shots-20 saves). Rochester, Plante 11-11-1 (33 shots-32 saves).
A-4,789
Referees-Terry Koharski (10).
Linesmen-Jeff Walker (28), Chris Woodworth (17).