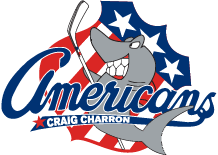 Cancer sucks.  That's it plain and simple.  If you don't personally know anyone with cancer consider yourself lucky.  On Tuesday it was made public that former Rochester Amerk Craig Charron is stricken with stomach cancer and is hard at work fighting it off.
If you have a few minutes and a few dollars help support the Charron family in their battle.  Click through the links below to read about his story and his fight if you haven't done so already.
There's also going to be a number of events this summer to help raise money, announced so far:
Celebrity Bartending Night at Murphy's Law 6/21/10
Hockey Game at ESL with NHL Players 8/1/10
Golf with NHL Players 8/2/10
I'll post reminders as the dates and details become clearer.  I've already started saving to make my largest donations at Murphy's on June 21st.
Links:
http://craigcharron.com/ – The official site to keep updated on everything!
Hockey O-Zone – "Sharky's resume filled with one victory after another"
Democrat and Chronicle – "Former Rochester Amerk Craig Charron fights cancer"
Amerks.com – "Charron At 'Home' As He Faces Next Challenge"
Quote from the D&C Article:
"I'm ready to fight this, I'm ready to fight this every step of the way," said Charron, who retired after the 2001-02 season and has called the Rochester area home for 15 years. "I want to be one of those (beat-the-odds) statistics."
You can fight it Sharky!