The first layers of the ice are covering the concrete and the logo and advertisements were being finished up on Monday evening and that means it's almost time for the first puck to hit the ice.  That first puck will drop on Wednesday morning when the Florida Panthers hold a full practice at Blue Cross Arena.
The preseason game on Thursday is when we should get our first look at some potential players that will be in an Amerks uniform.
Before any of that happens, everything is falling into place that really has no effect on the standings but is still relevant news.  The schedule has been announced, tickets are on sale, promotions have been announced and now on Tuesday afternoon we'll get to see the new third jerseys.  I have not seen them myself but I'm told they have a very nice "simple" look to them.  The team is holding a press conference on Tuesday afternoon at 3pm at Blue Cross Arena.  Stop down if you're in the area, it's open to the public.
The Amerks will wear four different jerseys this season.  They'll have the standard white and blue jerseys.  The 3rd jersey being shown off on Tuesday and a special 75th Anniversary jersey that will be worn against Hershey in the first week of the season.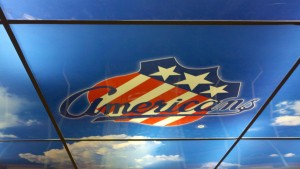 Along with the ice being painted, the locker rooms are all clean lacking any sort of "hockey smell."  That will change in about 10 minutes on Wednesday, but it was a sign everything is ready.  The picture above of the Amerks logo in the clouds is what is on the ceiling inside of the Amerks locker room (in case you've never seen it).
Stay tuned, the season is just about here!