If you've looked at any pictures from the Rochester Americans or Buffalo Sabres training camp you probably noticed something different about Rochester Americans Head Coach Ron Rolston, he doesn't wear standard hockey gloves during practice. Â There's good reason too, there's no need for them.
"I'm not going out there to check anyone or jump into the play," Rolston said laughing.
The gloves date back to his coaching days at Clarkson University in the late 90's and have been standard ever since. Â They make a lot of sense. Â The head coach isn't out there giving demonstrations, he's giving directions and explaining and pointing out what needs to be done. Â If he needs to use his whistle he doesn't have to take off his gloves (or get a special whistle that attaches to hockey gloves). Â When he needs to go to the board to write something he doesn't have to take the gloves off, set them down, write and then put them back on.
To him the gloves are nothing out of the ordinary. Â It's likely that he's sick of being asked about them but you couldn't tell. Â In his own words he said, "It's something that just makes things easier and more accessible to get up on the board and write or get to the whistle and instruct."
If you look closely at the picture you can see some writing on the top of the gloves, he has some Buffalo Sabres players to thank for that.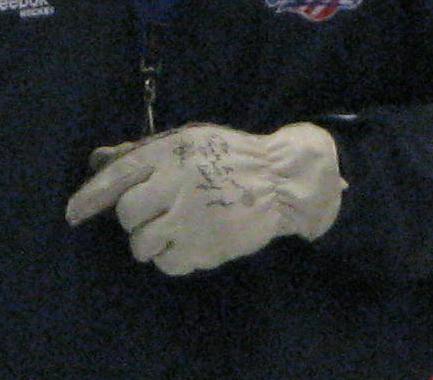 "I got a lot of autographs from being in Buffalo's training camp, the guys threw a lot of autographs on there so I might need to get a new pair."