The Amerks are coming off of their first win on the season on Friday night when they defeated the Lake Erie Monsters by the score of 3-1. Â The team played a better game offensively connecting more passes which resulted in less costly turnovers.
The Griffins and Pirates didn't play each other at all last season so there's no real head to head matchup comparison available.
The first two losses of the season were split by David Leggio and Drew MacIntyre, both allowed some questionable goals but neither game would be considered bad. Â David Leggio did play a better game on Friday night against and the Lake Erie Monsters and because of that will likely get the start tonight. Â The Griffins were the first AHL team that Drew MacIntyre played for from 2004-2006.
If Travis Turnbull can continue to go after the puck and not back down from players he'll continue improving. Â If Derek Whitmore continues with his same effort and energy he'll continue to put points on the board along with helping Zack Kassian grow. Â The key is Mark Voakes playing a leading role as the teams number one center, something he may not be ready for but is being pushed into.
The defense is a work in project that should have Shaone Morrisson being a guy that everyone looks up to and learns from.  After three games it's debatable if that's happening.
It's a no brainer that scoring goals builds confidence so if this young Amerks team can get ahead early they'll have some added confidence to help them through the rest of the game. Â The home opener last Thursday may have been a bust but if they improve on what was done Friday than tonight should be a better game.
Here's something from the Amerks about them being a young team:
Appearances Can Be Deceiving: At an average age of just 23 years and eight months, this year's Amerks are the fifth youngest team in the American Hockey League. Of the 26 current players on Rochester's active roster, 10 were born in 1990 or later, while eight players are at least older than 25. At 31 years of age, Ryan is the Amerks' oldest player.
No updates as of writing this on the injuries to defensemen Drew Schiestel or Dennis Persson.
Grand Rapids: A couple familiar faces in Doug Janik and Jamie Johnson are still on the Griffins squad, two former Amerks from over the years. Â The Griffins have 16 of 22 players from last seasons team which could be good or bad considering they finished near the bottom of The AHL in the standings in 2010/2011.
Here's the gameday writeup from The AHL:
Grand Rapids and Rochester meet at the Blue Cross Arena this evening in the first of six meetings this season… Both the Griffins and Americans were off last night, after both won their first game of the season on Friday… Willie Coetzee (2-0-2) has scored two of Grand Rapids' five goals this season, while Gustav Nyquist (1-2-3) and Chris Conner (0-3-3) lead the club in points…Corey Tropp (0-3-3) is the Amerks' top scorer, with T.J. Brennan, Michael Ryan and Derek Whitmore chipping in 1-1-2 apiece.
Game Promotions: The game falls on the first installment of the "Red Hot Sunday Funday" promotion, which again features the Zweigle's Family Four Pack. For the third straight year, fans can purchase four hot dogs, four sodas and four 200-End tickets to any Sunday home game for the low price of just $44.00. In conjunction with Savor Catering at The Blue Cross Arena, fans will have five opportunities to take advantage of this family-friendly promotion this season.
(lineup, click to enlarge/print)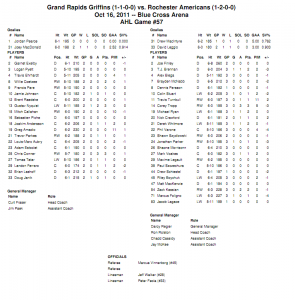 See you there!