It's amazing how one solid hockey game can put another one in the past, even if there's only four games played on the season. Â The Rochester Americans on Sunday evening showed what they can be capable of when all of the right pieces fall into place with a 7-2 win over the Grand Rapids Griffins. Â There's still some things to work on (defensive turnovers) but overall it was an exciting night of hockey inside Blue Cross Arena.
Six different players scored goals, 10 players tallied an assist, 15 out of 18 players had at least one shot on net and 52 minutes in penalties were handed out. Â This was the type of hockey game that would've had the arena off it's foundation at the home opener. The game also featured fights, questionable hits and a couple instances of blood on the ice. Â But it happened tonight and if you weren't there you missed out. Â This is also the type of hockey game that if played like this often will quickly attract fans regularly into the building.
A quick turnaround from the doom and gloom of Thursdays home opener. Â There's every reason to believe that after that poor performance they've turned things around with the game in Lake Erie and then tonights game.
Derek Whitmore scored his first goal of the season redirecting a shot from Jonathan Parker at 6:23 on the power play.
At 8:51 of the first Marcus Foligno tallied his second goal of the season when Jonathan Parker picked up a rebound from Colin Stuart and fed the puck to Foligno who was skating to the front of the net. Â Griffins goalie Jordan Pearce must've thought the puck was going a different direction and Foligno easily slid the puck into the net.
Gustav Nyquist got the Griffins within a goal when he easily skated to the net and received a pass from Chris Conner and shot it into an open net. Â Drew MacIntyre was watching the other skater and Shaone Morrisonn left the guy alone.
About five minutes later Jonathan Parker put a one timer past Jordan Pearce to give the Amerks a 3-1 lead. Â Morrisonn passed the puck to Colin Stuart crossing the blue line, Stuart put the brakes on and passed the puck cross ice to Parker who ripped it into the net.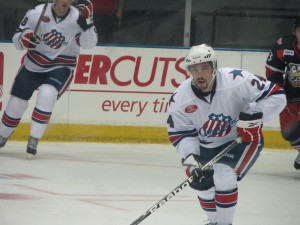 From Kevin Oklobzija on Parker:
He's a California kid who played major junior in the Western Hockey League He came to camp without a contract and earned an NHL deal based on his play in Traverse City at the prospects tournament, and in camp here. Now he looks right at home in the AHL. There will be many more growing pains, but there very likely will be many more big offensive outbursts.
The second period saw Landon Ferraro helped off the ice after this hit by Corey Tropp.
The Griffins scored their second goal of the game at 8:22 of the second period when Zack Kassian tried to stop Tomas Tatar but instead fell on top of Drew MacIntyre which allowed Tatar to get the puck in the net.
Zack Kassian's first goal of the game at 9:12 of the 2nd to give the Amerks a 4-2 lead was all hussle and one awesome pass from Mark Voakes. Â Voakes carried the puck over the blue line and saw Kassian skate past the defender and sent a perfect back hand pass to Kassian who beat Pearce stick side.
Alex Biega was able to steal the puck from Nyquist and pass the puck to Colin Stuart who scored at 10:55 of the 2nd to give the Amerks a startling 5-2 lead.
Trevor Parkes was granted a penalty shot at 14:34 of the 2nd period but Drew MacIntyre had no issues stopping it stick side.
At 16:06 of the 2nd Jacob Lagace scored his first of the season by holding off his defender and picking his shot past Pearce.
Zack Kassian capped of the scoring by making it 7-2 at 12:34 of the 3rd period when Phil Varone passed the puck almost from one blue line to the other where Kassian was on a fast break out of the zone. Â Kassian picked glove side and Jordan Pearce appeared to have no chance.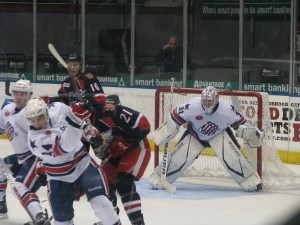 Drew MacIntyre played an excellent game for the Amerks in net stopping 30 out of 32 shots put on him. Â I had written before the game that it was likely David Leggio would start based on his performance in Cleveland. Â After some discussion with others this was probably the right move. Â MacIntyre didn't do anything wrong in his one game to earn a spot on the bench. Â With MacIntyre considered the top goalie and only three games into the season it would likely send the wrong message if Rolston was already juggling the two. Â At this pace MacIntyre and Leggio can keep going one for one and have no issues.
Late in the game Marcus Foligno delivered a hit to a Griffins player from behind which earned him a boarding penalty. Â The Griffins were going to stand up for themselves when two fights broke out featuring Amerks players Foligno and Kassian, you can watch that here.
The game wasn't perfect by any means.  There were some unnecessary penalties taken by the Amerks and there were still a number of defensive turnovers that could have resulted in goals against if it wasn't for MacIntyre.  The defense in general needs a lot of work.  We said the same thing about the offense five days ago and look how quickly that changed.  If the offense can find ways to produce points and the goalies can stop pucks they'll be able to make up for the defensive issues, or at least give the defense time.
It was a fun night inside of Blue Cross Arena and yes, the kids were able to play hockey in the corner. Â The announced attendance was 3,655 fans and that seems like it was about right. Â Not bad for a Sunday game during the peak of football season and the team coming off of a lousy home performance.
The Amerks are home again on Tuesday night at 7:05 to play against the Syracuse Crunch who are undefeated at 2-0. Â The Crunch could have a decent team this season so this game could have some firepower to it.
Here's highlights from the game recorded off of the scoreboard:
—–
Grand Rapids Griffins 2 at Rochester Americans 7 – Status: Final
Sunday, October 16, 2011 – Blue Cross Arena
Grand Rapids 1 1 0 – 2
Rochester 3 3 1 – 7
1st Period-1, Rochester, Whitmore 1 (Parker, McNabb), 6:23 (PP). 2, Rochester, Foligno 2 (Parker, Stuart), 8:51. 3, Grand Rapids, Nyquist 2 (Conner, Andersson), 11:53. 4, Rochester, Parker 2 (Stuart, Morrisonn), 16:46. Penalties-Exelby Gr (interference), 6:29; Brennan Rch (interference), 9:43; Crawford Rch (hooking), 14:09.
2nd Period-5, Grand Rapids, Tatar 1 (Conner, Pare), 8:22. 6, Rochester, Kassian 2 (Voakes, Whitmore), 9:12. 7, Rochester, Stuart 2 (Biega), 10:55. 8, Rochester, Lagace 1 (McNabb, Szydlowski), 16:06. Penalties-Amadio Gr (fighting), 2:19; Janik Gr (roughing), 2:19; Finley Rch (fighting), 2:19; Tropp Rch (interference), 5:41.
3rd Period-9, Rochester, Kassian 3 (Varone, Crawford), 12:34. Penalties-Amadio Gr (slashing), 2:01; Finley Rch (roughing), 2:01; Foligno Rch (slashing), 5:31; Lagace Rch (slashing), 10:18; Ehrhardt Gr (fighting), 12:57; Exelby Gr (fighting, game misconduct – secondary altercation), 12:57; Foligno Rch (major – boarding, fighting), 12:57; Kassian Rch (fighting, game misconduct – secondary altercation), 12:57; Janik Gr (fighting), 13:53; Tropp Rch (fighting), 13:53; Morrisonn Rch (tripping), 19:33.
Shots on Goal-Grand Rapids 11-13-8-32. Rochester 12-12-8-32.
Power Play Opportunities-Grand Rapids 0 / 7; Rochester 1 / 2.
Goalies-Grand Rapids, Pearce 0-1-0 (32 shots-25 saves). Rochester, MacIntyre 1-1-0 (32 shots-30 saves).
A-3,655
Referees-Marcus Vinnerborg (45).
Linesmen-Jeff Walker (28), Peter Feola (33).