A handful of updates on the Rochester Americans on this sunny but cold Saturday afternoon. Â The Amerks had their first shutout win of the season on Friday night against the Albany Devils winning 3-0. Â They left last night after the game to head to Glens Falls where they're playing the Adirondack Phantoms tonight at 7pm.
The biggest bits of news is that Colin Stuart was called up after the game last night due to Jochen Hecht being injured in Friday's Sabres game. Â Corey Tropp was also injured and now has a concussion so who knows when he'll be healthy and sent back to Rochester.
TJ Brennan sent out a tweet saying that he feels well and will be back in the lineup for the Amerks tonight. Â Ron Rolston had said that he didn't expect him back this weekend but Brennan participated in full practice on Friday and appeared ready and apparently he is. Â Have to love the power of Twitter for information being spread!
[blackbirdpie url="http://twitter.com/#!/tj_brennan/status/145565818946723843″]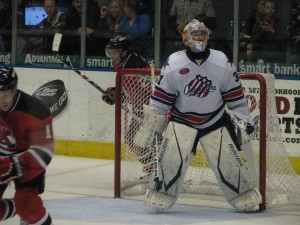 Drew MacIntyre played an outstanding game making 40 saves on Friday night and I'm sure Rolston has a tough decision to make whether or not to start him again tonight or the day off to play on Sunday. Â We'll find out later.
As mentioned above the team is playing against the Adirondack Phantoms tonight, a team that they lost to back in late October by the score of 3-1. Â In my recap here of that game one of the big reasons for that loss was the eight failed power play opportunities the Amerks had in the game. Â They also gave a shorthanded goal. Â The special teams haven't gotten that much better but it hasn't gotten much worst. Â They scored two power play goals Friday night so hopefully it's a sign they're headed back in the right direction.
On Friday night those two power play goals along with Marcus Foligno's go to the net lucky bounce in the air had the Amerks get their first shutout win of the season. Â The three goals scored were text book goals that coaches try to make happen. Â Foligno took the puck to the net and a high bounce in the air landed in the net. Â Alex Biega fired off a curveball of a slap shot from the blue line on the power play. Â Derek Whitmore set himself up perfectly to the side of the net for the third goal of the game and thanks to some great passing the team was able to set him up. Â You can watch the video below.
A win is exciting and I'll take a win any way the team can get one but that third period was a snoozefest. Â The Devils outshot the Amerks by a margin of 18-1 as the Amerks went into defensive mode to hold on to the win.
Here's a great snippet of info from Drew MacIntyre in the postgame writeup by Kevin Oklobzija:
It's the perfect start a three-game weekend, as they attempt to atone for last weekend's wasted three games.

"We paid attention to details," MacIntyre said. "I've been in this league long enough and it's details that win and lose games. Last weekend we had zero details."

Much of practice was spent on a lot of those details: being better in the defensive zone, being better without the puck, being stronger in front of the net.

The players realize they can't lose games against mediocre opponents. Or against good teams, either.

"Its about being professionals," MacIntyre said. "We have to be professionals."
That's the type of stuff you like to hear and that's the type of stuff that veterans bring to a hockey team.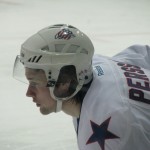 Dennis Persson played in only his second game of the season after suffering an ankle injury during the first week of practice. Â He didn't appear to get as much ice time as everyone else but he was noticeable when he was out there. Â It was obvious he was likely running out of gas at times which is to be expected after being out of game shape for over two months. Â A lot of people see an NHL future for Persson so it'll be interesting to see what he's capable of once he's back to 100%.
Here's the scoreboard video of the three goals scored:
Gametime tonight is at 7pm on 1280AM in Rochester and online at WHTK.com or pay $6.99 at AHLLive.com