The 2011/2012 season has had it's fill of injuries and call ups between the Rochester Americans and Buffalo Sabres and through it all there has been one player who has possibly benefited the most from it, Marcus Foligno. Â The rookie is currently leading the Amerks in scoring with 12 goals and 17 assists for 29 points through 46 games played. Â He's also leading the team with a +/- rating of +15. Â Marcus is also third on the team with 83 shots and with 57 penalty minutes is fourth on the team. Â When looking at the rest of the league, Marcus Foligno is tied for 13th in the rookie scoring race. Â Those may not be stats to earn the Sabres AHL affiliate a fourth straight AHL rookie of the year but there's still 30 games left to be played.
What's impressive about his points this season is that he's working hard at acquiring them. Â Of the 12 goals he has scored, nine of them have been during five on five situations. Â He's scored one power play goal and two empty net goals. Â Of the 17 assists to his credit 12 of them have happened during five on five hockey and one short handed assist. Â The other four assists have been on the power play. Â The way he's earning those is attributed to his emerging dominance on the ice.
"He doesn't cut corners and he doesn't cheat on the offensive side," Chris Taylor said talking about the +/- rating. Â "He's always in good position on the defensive side and that's why he's been successful in his +/- and why he's on our penalty kill and on our top couple of lines."
The stat is something that Foligno recognizes saying, "I don't think I've ever been a +15 before in my career with the Sudbury Wolves. Â We always had a tough team so I was always in the minuses."
Marcus Foligno played four season with the Sudbury Wolves of the Ontario Hockey League. Â Each season he progressed improving not only his scoring touch but improving his +/- rating. Â In his first season he was a minus 28 and by his fourth season he was a plus 5. Â Progressing from the junior game to the pro level takes you from playing against boys to playing against men. Â That also means your confidence level changes and requires you to mature a lot faster and Foligno has done that.
In the fourth game of the season Marcus Foligno made a name for himself early in the season after he was called for boarding and a tag team fight broke out.  On one side it was Marcus Foligno vs Travis Ehrhardt and on the other side it was Zack Kassian vs Garnet Exelby.  The boarding penalty on Foligno that was the direct cause for this fight earned Foligno a two game suspension.  Those are the only two games Foligno has missed all season with the Amerks.
That little scrap earned Foligno a name for himself early in the season and his pro career, even if it earned him a two game suspension.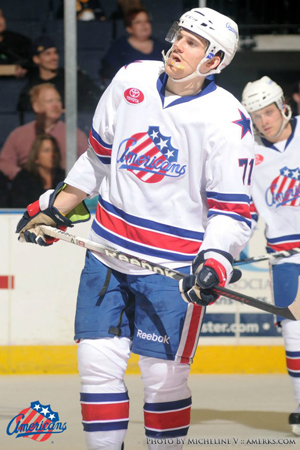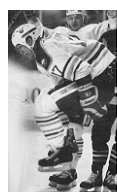 The Foligno family name has been well known in Western New York since Mike Foligno began his career in a Buffalo Sabres uniform during the 1981/1982 season. Â Foligno played in 664 games as a Buffalo Sabre and is known for a lot of things, the most popular being the famous jump he would do after scoring a goal. Â A move that Marcus will save for his first NHL goal, just like his brother Nick did. Â When it was time for the Buffalo Sabres to pick 24th overall in the first round of the 2006 NHL Entry Draft many were hoping that they would have picked Nick Foligno. Â The Sabres drafted Dennis Persson and four spots later Nick Foligno went to the Ottawa Senators. Â Fast forward to the 2009 NHL Entry Draft and Marcus Foligno was picked 104th overall in the fourth round by the Sabres to finally get a Foligno back into a Sabres sweater.
That draft class of 2009 is shaping up to be a great one for the Sabres. Â Zack Kassian was picked in the first round, Brayden McNabb in the third and Marcus Foligno in the fourth. Â All three players have played in at least one NHL game this season as a rookie. Â The other player picked in 2009 was Mark Adams who is currently playing for Providence College.
"He says I've improved a lot and likes the direction I'm going," Marcus said talking about the feedback he's gotten from his father. Â "He knows that I'm a little more physical so he says to just to keep playing physical and stuff like that is the biggest thing he likes. He likes gritty forwards and just wants to see more of that."
If you've recognized a face with a nose that looks like it's been broken a few times walking around the War Memorial in recent weeks that looked like Mike Foligno it probably was. Â Mike has been in attendance at a handful of games to watch his son play since being released from his coaching duties with the Anaheim Ducks.
Marcus said that they talk about the way he plays saying, "He's a critic for sure.  He's critiquing every play that I make but thats why he's a father and a coach too. He wants the best for you and every time he's there it's always exciting to play in front of him."
You have to have more than just a name on the back of your sweater to make it to the NHL, you have to have the skill and knowledge of the game as well and Foligno is proving that he has those traits.
Chris Taylor talked about that saying, "He's learned the right way from his dad and brother.  You can just tell on the ice that he has the hockey sense and that he has a great family and good knowledge of the game.  He's one of those players that has really good hockey smarts.  I think he's just adjusting to the game from junior to pro and he's doing it very well right now."
When Colin Stuart and Zack Kassian were called up to the Sabres it created an opening for someone to step up their game and that's exactly what Foligno did.
"It helped when we had some key players go up," Foligno said. Â "It gave me space to increase the points and at the same time help out."
In the early parts of the season I wrote at one point that once Foligno could figure out how to pass the puck his season would turn around and since December 18th he has been a leader on the team. Â Through the first 29 games of the season Foligno only had three assists but also had nine goals. Â Since the game on December 21st against Lake Erie he has tallied 14 assists and three goals showing a shift in his game.
So, what happened prior to that game on December 21st that could be attributed to the turnaround for Foligno? Â The Amerks arrived back in Rochester on December 19th after a three game road trip to Texas and when the plane landed he was notified that the Sabres had called him up for the first time along with Derek Whitmore. Â They drove up to Ottawa and both played in their first regular season NHL games with the Buffalo Sabres on December 20, 2011. Â That was a big milestone for Foligno. Â It was not only his first NHL game but it was also against his brother Nick and also with his father in attendance.
Foligno was sent back down after his NHL experience and he played back in Rochester on December 21st completing a stretch of five games in six nights and over 2,000 miles travelled.
"He played just the one game up in Buffalo and it gave him a taste of what it's like and gives him a picture and vision of where he's got to be in the future and where he wants to be," Rolston said when asked about Foligno's taste of the NHL. Â "I think his attitude in terms of understanding the process and getting better on the things he needs to get better at to be at that level has been the key to him."
The American Hockey League is often referred to as a development league and Marcus Foligno is proving to be the definition of development this season. Â He's taking care of every important piece of the game with offense, defense and playing a physical game. Â There isn't anyone on the ice that's safe from a hit.
"His progress I feel has been very good in terms of a model in what you want from your young players in the American League," Ron Rolston said talking about Foligno. Â "He started off with a long way to go in terms of his conditioning, in terms of being a professional, showing up every day and consistency and now he's to the point now on a nightly basis where he's a dominant player."
In the American Hockey League we often talk about the importance of veteran players to not only help a team win but also be leaders for the development of prospects. Â The roles of Derek Whitmore and Paul Szczechura have played a key role in the progress of Foligno.
Foligno never thought he'd be leading the team in scoring right now but he's not complaining about it.  "Guys like Derek Whitmore and Paul Szczechura, those guys are offensive," he said.  "You'd think they'd be leading.  The last couple weeks Szczechura has been amazing.  Guys like Whitmore lead by example and you just have to follow and I just so happened to get a little more points than them."
Talking specifically about Szczechura he said, "He's a play maker and a goal scorer too." Â That type of influence and recognition towards a team mate not only shows how important other players are to Foligno but also who he is as a person giving credit where it's due. Â That's the type of character that teams look for in a player to display on and off of the ice.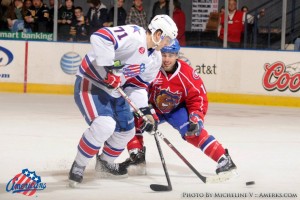 After every practice all of the players break out into different area's of the ice to work on various aspects of the game. Â It could be working on face offs. Â It could be working on shooting or passing. Â It could be teaming up one on one with Joe Finley to work on pugilistic skills. Â That's the time where players really get the one on one time from the coaching staff and each other and it's something Foligno specifically mentioned while talking. Â The Amerks could have one of the best coaching staffs in the AHL with Ron Rolston, Chad Cassidy, Chris Taylor, Jay McKee and Bob Janosz. Â In the five years that I've been covering the Amerks and watching a lot of practices this is the first season I've seen such detail go into the tail end of practice. Â Typically it's just players breaking off on their own but lacking the intensity to the extra skill work.
All of the players take advantage of that time but Marcus Foligno is one that is really starting to get rewarded for all of his hard work.
"It's helped out with Chris Taylor always pushing me in practice and the coaches believing in me," Foligno said. Â "It was just a matter of time for me to find my stride here in this league."
That extra work is something that doesn't go unnoticed by the coaching staff either. Â Rolston said, "Every day he's working on something different. Working extra and that's great for the organization, we want players like that."
The season started with Foligno playing on the third line but he has since moved up to playing the top line on the team and playing a key role on the penalty kill unit. Â It also helps that one of his current line mates is Paul Szczechura who could easily be playing on an NHL roster right now.
Chris Taylor said, "He started his way on the 3rd line and with the injuries he's taken advantage of his ice time.  He's just blossomed over the last month and a half.  He's just hard to play against and that's the player they want him to be."
"With confidence and maturity over the last couple of months he's just taken over," Taylor said of Foligno's game.
What exactly is Foligno's game?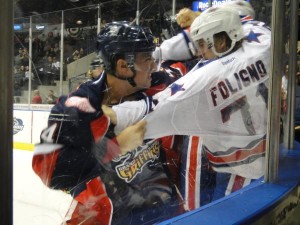 Marcus describes it himself saying, "Playing gritty. Â It's one of the best jobs ever." Â He quickly covered his tracks making sure to not offend the way others play the game of hockey by saying, "Not that those small guys with the great hands and playmaking don't have a fun job. Â You need those guys on the team but with the size I have that's what I have to bring to a team."
That gritty game is clearly something Foligno enjoys.  "When you make a hard play or you make penalty kill for instance.. if you hit a guy on the boards the other guys really appreciate that stuff and it just builds momentum and guys thrive off a guy like me and my energy on the team.  I just love the physical side and being able to get a tap on the back from team mates after."
Foligno added, "Even if you have a good shift and the next line goes out and scores you feel like you developed the energy and the hockey Gods appreciate that I guess."
Taylor expanded a little more on Foligno's game saying, "He's just hard to play against and that's the player they want him to be. Â They want him to be a player that finishes checks, is hard on the puck and creates space for his line mates." Â The they obviously being the Buffalo Sabres.
The physical side of the game is something that comes natural but another area that needed improvement from the start was his ice time.  At the start of the season Foligno  would take longer shifts because that's something you are able to do when playing in juniors but it changes at this level.
"If he takes minute shifts he's not more effective than he was if he takes 30 second shifts. He's more effective with 30 to 40 second shifts and that's when he's playing the right way by finishing his hits, getting around the puck, getting the puck to his line mates and getting to the front of the net," Chris Taylor said talking about ice time. Â "That's his game and when you do that you can only take 30 – 40 second shifts and that's why he's effective and he's learned from that."
I asked Chris Taylor if he's happy he doesn't have to play against someone like Marcus Foligno he laughed and said, "He's a big guy and like I said he doesn't give up on anybody and he finishes all of his checks."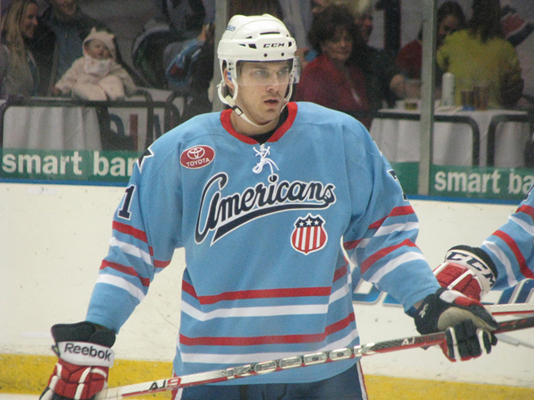 Other than his offensive game, Foligno is also playing very well defensively.  Ron Rolston talked about that saying, "Defensively from the beginning of the year he's night and day in terms of his position and having an intensity in our zone.  They all want to have an intensity in the offensive zone but the importance to have intensity coming back, picking people up, making sure to be in good position to get the puck back is key and that's an area he's really improved a lot on."
Chris Taylor talked about that part of his game as well saying, "He's one of those guys that will get in first on the puck, he'll take the puck off of guys. He finishes hits and that gets him the puck. He's just strong on the puck and that's a big component that he has in the corners using his size and using his arm strength to fight guys off and when you can do that you create a lot of space for your line mates."
Foligno is a well rounded player that as Chris Taylor put it, "a lot of teams are watching out for because he's one of those guys that'll finish on you every time. Â He doesn't take any shortcuts, he plays the game the right way."
"I guarantee if you asked all of our forwards around the dressing room and asked who would you want on your line in terms of making space and working and I guarantee a lot of players want to play with Marcus Foligno," Ron Rolston said.
The confidence of Foligno's game has not only improved but so has that of Phil Varone who is currently second on the team in points. Â I don't think anyone could have predicted that at this point in the season that Foligno and Varone would be the two leaders in points. Â The extra confidence of both players is contagious and it's showing in the box score. Â Foligno has points in the past five games and Varone in two of the last four.
"Early on in the season if you gave me the paper with the roster, if we were going to be a playoff team and a team that was going to be making a run I would've said no," Rolston said when asked if he could have predicted Foligno being a leading scorer.  "Right off the bat there were a lot of diff circumstances that came up that put guys in different roles and you had Zack Kassian leading the team in scoring and now you have Marcus Foligno.  It's great for us and the organization but if you looked at it early on and asked if that was the case you would've said no."
At the pace he's going Marcus Foligno will no doubt have a career ahead of him in the NHL just like his father and brother, assuming he continues with everything that he's doing well. Â There's no reason to doubt that any of these achievements of Foligno are a fluke. Â Marcus is playing his type of game, taking every bit of advice from the coaching staff and following through with everything.
"He's just hard to play against and that's the player they want him to be," Taylor said. Â "They want him to be a player that finishes checks, is hard on the puck and creates space for his line mates."
"If he's going to make it to Buffalo he's got to play physical and make sure he's finishing checks.  He's got to make sure to get to the net when he doesn't have the puck and just being difficult to play against," Rolston said.  "When he does have the puck he can still be physical, he can drive wide, bump off people, attack from below the goal line.  His physicality has to be there in order for him to be the successful player that he is right now and is going to be in the future."