This is it folks. Â There's two regular season games left for the Rochester Americans and the race is close. Â The Amerks are not out of the playoff race just yet but if they want to make it they can't afford to lose a game. Â It sure does sound familiar, the Sabres were in the same situation.
Doug Janik defeated the Amerks on Tuesday night with a penalty shot in overtime to give the Grand Rapids Griffins a 5-4 win. Â It was a league leading 24th game in overtime for Rochester. Â The call was easy for Jamie Koharski. Â Phil Varone broke his stick and instead of just dropping it to the ice he took the shaft part and tossed it at Janik who had the puck, automatic penalty shot. Â That was the game right there but it never should have come down to that.
(photo courtesy of David Sturm prohockeynews.com)
Corey Tropp scored two great goals in less than four minutes in the first period to give the Amerks a 2-0 lead and what should have been the momentum to continue building on that. Â Unfortunately the opposite happened. Â The Griffins scored two goals in 59 seconds to tie the game 2-2 in the first period and then another two goals in the first half of the second period to take a commanding 4-2 lead.
The first two Griffins goals were scored during one shift while Luke Adam was on the ice, one of the goals was a clear mistake on his part. Â Adam corrected his mistakes though with a goal at 3:42 of the third period to make it a 4-3 game and then TJ Brennan scored less than two minutes later to tie the game 4-4.
Just prior to the two goals scored I had sent out a tweet saying how quiet the arena had become but that quickly changed. Â The team was back in the game and so was the crowd. Â The game was there for Rochester to take over and go for the win in regulation. Â The Amerks had four power play chances in the third period including a short five on three but Rochester's 25th ranked power play in the league was not able to score. Â The Griffins and ref's had practically handed the game to Rochester to take over and win but the team was not able to.
This was a league leading 24th game in overtime for Rochester and it only lasted for a minute and 46 seconds this time. Â Phil Varone and Doug Janik were battling for the puck along the side boards and Varone's stick broke. Â What happened next was a rookie mistake out of frustration, one that he completely owned up to (Read Kevin Oklobzija's post game blog here for that). Â Instead of dropping his stick to the ice, Varone tossed it at Janik who had the puck and Koharski awarded a penalty shot.
Doug Janik scored on David Leggio in his first ever penalty shot in his life and that was the game.
Like many other games this season it came down to a scenario that shouldn't have been. Â The team didn't play a complete 60 minutes. Â The team couldn't score on the power play. Â The same old same old. Â It's like the movie Groundhog Day, just the same story over and over this season with only slight changes.
The Amerks are currently in 10th place at 82 points but it's mind blowing how close the Western Conference is.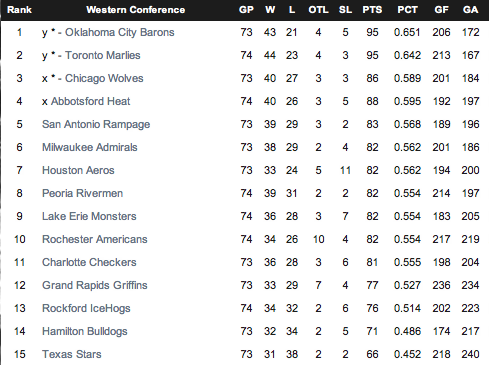 Mathematically the Amerks are still in the playoff race but will need some help. Â Their last game is on Friday at home against the Syracuse Crunch followed by the Lake Erie Monsters on the road on Saturday. Â Two wins is absolutely necessary. Â Here's the scenario that Eric Bourgeois came up with:
Assuming we win our two games, Cleveland is done and we end up with 86.

We then need 2 out of these 5 teams vying for a playoff spot to NOT get more than the max points below:

San Antonio = 2/6
Milwaukee = 3/6
Houston = 3/6 (maybe 4 with 3rd tie breaker?)
Charlotte = 4/6
Peoria = 3/6

Charlotte plays Peoria and Milwaukee.

If Charlotte wins all 3 of their road games, then Peoria is out and Charlotte is in. We'd need Milwaukee and/or Houston to get only 3/6, and that would be reasonable because Milwaukee would have lost to Charlotte (although even a loser point would help their cause.

If Peoria wins out they would be in, and we'd need 2 of these 3: Charlotte/Milwaukee/Houston to all only get 3/6.

If Milwaukee wins out they are in, and we'd need 2 of these 3: Charlotte to get only 4/6, Peoria/Houston to only get 3/6.
Confused? Â It's crazy how close the race still is. Â Playoff spots have been there for teams to take but only a couple have taken the opportunity, for the rest it's down to the last week. Â Long story short, the Amerks have to win their last two games and they need some help.