After a second frustrating trade deadline in a row, Eric Bourgeois and Jason Bonno discuss the Amerk playoff roster (who's on it, who is not), playoff chances……..and Darcy Regier.
Kevin Porter
Eric: He was clearly very important to the team in many ways as its captain and is sorely missed. Good for him in getting NHL time, but I think he would have cleared waivers so that he could have played with us in the playoffs.
Jason: This was a tough blow to the Amerks. Porter's speed and puck possession were elite at the AHL level, and are two things the Amerks severely lack currently. He was the backbone of the Amerks forwards. Beyond his offensive abilities, he was also responsible defensively and was a key PK'er. I can't say 100%, but my guess is he would have cleared waivers. His 1-way deal next season was a nice security blanket and probably would have scared off teams from claiming him.
Cody Hodgson and Marcus Foligno
Eric: I'm okay with considering them "graduated" and therefore not eligible for the playoffs here, but boy does the Buffalo organization need some playoff experience for its young players. And it's not like Hodgson couldn't improve his D-zone play.
Jason: I can understand Hodgson and Foligno not being on the Amerks' playoff roster. I disagree with it, but it makes some sense. However, Hodgson's defensive game is clearly lacking in the NHL and he's been exposed many times. Sending him down to Rochester, especially to play in tight playoff games, would only have helped further his development as a player.
Foligno, on the other hand, has been a healthy scratch in Buffalo and a completely inconsistent player. Dominant some games/shifts, invisible others. This is normal for a young player, but again, all the more reason to put him on the Amerks playoff roster to work on improving.
T.J. Brennan
Eric: I think moving him to the Pcats for a 5th rounder was all about giving Brennan a chance to play in the NHL since Buffalo didn't have room for him. He was a great Amerk, a lot of fun to watch…but I'm not sure he can play enough solid D to stick in the NHL so here's hoping we don't have to see his point shot against us in the future
Jason: Brennan would not have cleared waivers. I never expected him back with the Amerks. His shot on the PP has been missed. I feel the Sabres did not give him enough of a chance in the NHL. His trade only continued to deteriorate the Sabres defensive depth which ultimately trickled down to Rochester.
Adam Pardy
Eric: There really isn't a whole lot of wiggle room on " reasonable opinions" regarding the Pardy situation. Regier made a strategy blunder – plain and simple. Whether it was making Adam the emergency recall instead of Pardy or making sure he acquired another D so the Sabres weren't left with a minimum of 6 – Pardy should have been with us now and/or for the playoffs. He was our best defensemen probably since Doug Houda, and our cup run chances are drastically lower now without him.
Jason: This was a massive mistake on Regier's part. Pardy was a rock on the Amerks blueline. He held that unit together and really was able to slow the game down. He had the ability to make a crisp outlet pass or to simply skate the puck out of trouble. The Amerks now completely struggle clearing their own end, which is why they are consistently out shot and out chanced nearly every game. The Amerks were short defenseman, not forwards. Why Darcy Regier added Luke Adam on the playoff roster, whose time in the organization is likely limited, over Pardy is a mystery no one can really solve.
Patrick Rissmiller
Eric: An unusual and excellent mid-season veteran pickup by Regier. His puck possession skills are the best on the team. He seems to be involved in the majority of scoring chances when he's in the lineup. I really thought that the signing of him meant a new era for Darcy Regier. He's the kind of AHL only vet that teams need in order to be successful. Not being able to get him into the lineup because of the ridiculous veteran rule (Only 5 in the lineup with 320+ pro games at the AHL+ level, excluding goalies) is something I'll blame the AHL/NHL for and not coach Cassidy.
Jason: Credit where it's due – this was a nice addition by Regier (though likely, it was more of a Rolston move). He's a big body who is incredibly patient with the puck. Defenders struggle to move him off of the puck in the offensive zone and he creates scoring chances. The decision by Coach Cassidy to sit him over Nick Tarnasky, due to the veteran limit, is a terrible coaching mistake. Cassidy wants to stay "loyal" to Tarnasky. Excuse me? This is professional hockey, not youth hockey. The best players play, period, especially when we're dealing with 2 veterans. I could understand if a prospect was playing over Rissmiller, but that's not the case here. Nick Tarnasky is a nice player, but several notches below Rissmiller.
Cody McCormick and Matt Ellis
Eric: In the same time period Rissmiller was signed, these two classy vets were also sent down. I really was feeling a Cup run at that time. Ellis, especially, is a great choice for C.
Jason: Ellis and McCormick have been nice additions. I won't go out of my way to credit Regier for it, however. Both were exposed to waivers and the Sabres were fully prepared to lose them for nothing. Thankfully they cleared, but these were not moves intended to help Rochester. That happened, indirectly, but no credit to the Sabres here. Ellis is the perfect AHL captain. He's oozes leadership and demands respect. He plays all three zones and really doesn't have a weakness at the AHL level. McCormick has also been a solid addition, though he has disappeared at times. Some games he looks like an NHLer dominating AHLers, some games you don't notice him – too much inconsistency. He's a better version of Nick Tarnasky.
Johan Larsson and Matt Hackett
Eric: In fairness to our frustration with Regier, we did obtain a very good 2-way forward and goaltending help for Leggio.
Jason: These were nice additions to the Amerks. In a vacuum, Regier had a nice return for Pominville. But Darcy has been "winning" trades for years, and we see the current results. Larsson appears to be a good 2 way forward. He's a much needed 2 way centerman for the Amerks. Not going to score a lot, but he has an excellent shot and should be able to match up against the oppositions top line. Hackett I have not seen play yet, but he had an impressive performance Sunday in Albany. Connor Knapp and Nathan Lieuwen were not AHL goalies, so Hackett was a nice addition to be able to relieve Leggio.
On 2013 Trade Deadline
Eric: And…now to our pressure point with Regier. Look it – you can't lose 5 NHL caliber Dmen over the course of 2 months (Pardy, Brennan, Finley, Pysyk and McNabb) and replace them with 2 undrafted college kids and an ECHL'er. I'll give Regier the benefit of the doubt that at least 2/3 of these guys are an unpolished gem…because they have a great track record with that (ex. Flynn last year at the time, Rankin). But that doesn't mean we've been given a D that can win in a playoff series. Not just their defense, but the whole transition game. No matter how well Leggio/Hackett play – it's going to be really tough to win a series now, and it didn't have to be that way. There were a lot of loans made for other AHL teams involving AHL caliber players.
Jason: As Eric points out, the Amerks have lost McNabb, Brennan, Pysyk, Finley and Pardy in a matter of months. That's almost an entire defensive unit. No one is upset because they left (waivers, injuries, trades), the issue stems from Darcy Regier doing nothing to help replace any of them. You cannot lose 5 defensemen from a team, in a playoff race, and ignore it. That's disgraceful. Regier had months to find help. Months. The end result was predictable of Darcy Regier's tenure. He did nothing. He's allowing the Amerks to play with a lineup consisting of ECHL level defensemen and college free agents. He had an NHL trade deadline and an AHL trade deadline to find help, and didn't. He told Kevin O he was working the phones to find help, and ultimately did nothing. He did sign an ECHL defenseman, Michael Wilson, to a PTO. He's played about 90 AHL games, and all indications are that he's a poor defender at the AHL level. As far as I'm concerned, that signing was salt in the wound – Insulting.
On 2012 Trade Deadline
Eric: We were left high-n-dry last year, too, at the deadline. Desperately needing some scoring punch on a character hard working team, we were told there was nothing out there better than what we had. WE THEN watched weeks of ECHL Dmen playing FORWARD. It was an puzzling statement then and it still makes me furious now.
Jason: The same Regier-esque type of disaster we're all used to. The Amerks clearly needed help scoring last season as they fought for a playoff spot. Predictably, Regier decided to do nothing. The Amerks made the playoffs in their last game of the season and then were swept by a clearly superior Toronto team. Again, the word "insulting" comes to mind. Regier has an utter lack of respect of the Amerks tradition and is content with watching them swim in mediocrity.
Current Defense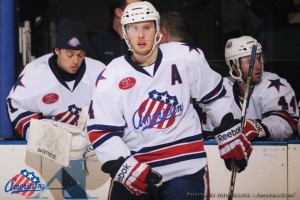 Eric: As discussed above – it's not pretty. Although, Biega is playing very, very well, our #1 Dman now….wasn't even a regular as the season began. Beiga, Crawford, Schiestel, Leduc, Mackenzie, Wilson, Beattie, Bailey might be the worst D corp. in the league. I hope they can play above their heads and that I'm way wrong, but a serious GM doesn't allow this to happen. Pysyk will help of course when the Sabre season ends – but it's not enough. And what happens if the Sabres (playing with a minimum of 6 D on their roster) have a few injuries? (Sabre fans – Nick Crawford is your 8th defensemen. Does that put things in perspective?) First, if another NHL team is dependent on the Sabres to put their best foot forward against a team they need to lose for their own playoff positioning – it's not going to happen. Integrity…naw. Secondly, it weakens us that much more…albeit only temporarily.
Jason: I'll be blunt, the current defense is a disaster. Alex Biega is the number 1 defenseman. All due respect to Alex Biega (I like him), but he should be a 5 or 6 on any serious AHL team. Hell, he was battling for time as the number 6 early on. Nick Crawford, the team's number 2 defenseman, was consistently a healthy scratch the first few months. Now he plays big minutes. Gauthier-Leduc simply can't play defense at the AHL level. He's a liability almost every shift. He was supposed to provide offense, though that is non-existent at this level as well. The rest of the defense is made up of overwhelmed college free agents and ECHL defenders. Add them all up, and you probably have the worst current defensive unit in the AHL. The Amerks can't clear their own end in games. It's almost a permanent penalty kill. Their defense does not have the ability to move a forward off the puck and make the correct outlet pass…or to skate it out of danger, or to play it off the glass. This unit, my guess, would be middle of the road – even in the ECHL.
Darcy Regier
Eric: I really think Regier has done a solid job overall the last 2 years, but he gets a big fat 0 for trade deadline moves. And nothing can erase his putrid history with the organization. His AHL teams have 24 playoff wins since the 2000-2001 season. The meaningful banners (and now any banners at all) have stopped since he took over.
And it's not as if his strategy here can somehow be glossed over because of success in Buffalo. He's failed miserably there as well. He has no accomplishments really for a combined 30+ years of work (between the two teams). It's time for a change. I'll give him credit for making good trades and finding and having patience on hidden gems, but he's not the guy to build championship teams at the NHL or AHL level. Give him some type of advanced hockey ops title but let someone be the architect!
Jason: I'll keep it simple. I have no respect for Darcy Regier in hockey and think his time as GM of the Amerks has been insulting and damaging to the team. The Amerks have had 50+ years of fantastic tradition. Full of championships and exciting teams. The Amerks last won a Calder Cup in 1996. Regier took over in 1997. Do your own math.
Terry Pegula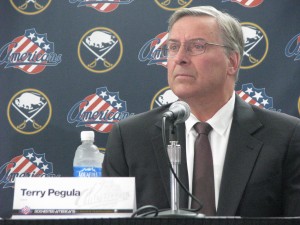 Eric: I believe he wants to win both in Buffalo and here. I believe he has made the commitment to Rochester. Off the ice things are great and getting greater. From the scoreboard to the VIP lounge to the new concession potential to pricing to STH service…things are great. He hasn't shown any reluctance to stash salary down here and has paid a lot of money for veterans to play here (ex. Stuart, Mancari, Tarnasky). The problem is his architect has failed. Unfortunately, until he changes architects, he too will fail – and that is a damn shame.
Jason: I think Pegula is a naïve sports owner that needs to wake up. His team in Buffalo is a disaster and the fans hate the team. Yet, he'll likely hang on to Regier. He had no direction for this franchise other than soundbytes saying he wants to win the Stanley Cup. As for the Amerks, I don't blame him specifically. I think he lets Regier do his thing, and we see how that has damaged both teams. Pegula has done a lot of great off the ice, it's time he wakes up and fires the GM. It's becoming a running joke in the NHL that Regier is still GM.
Next two weeks – Making the Playoffs – Positioning
Eric: I think we'll make it. I mean, we're listed at 95.2% probability to make it currently, but we do need 3-5 points and frankly we'll need our goaltending to steal those for us. I don't see the lopsided scoring chances in favor of the opposition changing. Our D isn't good enough to clear the zone consistently and when they do the transition is rough.
But of much greater concern is our seeding. We don't want to slip to 7th or 8th and be matched up against Texas or Toronto. With the first round only being a best of 5 and us not matching up well against either team, combined with not having our full lineup back until the 26th (1-2 games will already have been played without Flynn, Pysyk and Adam), we could get into a 2-0 hole real quick.
Jason: The Amerks will probably make the playoffs, but barely. They have 2 excellent goalies and they'll sneak in based on that fact. But reality is, when the playoffs start, the Amerks will be exposed as the weak team that they are. They've won several games this season that they had no business in (see 1-0 win against Syracuse last month). They've also pulled out 9 wins in 10 shootouts. Almost unheard of. There's no shoot out in the playoffs. They will get Adam, Pysyk and Flynn back from Buffalo. But that's too little, too late for this decimated team. The defense is simply not AHL level and won't be able to handle a superior team in a 5 game series.