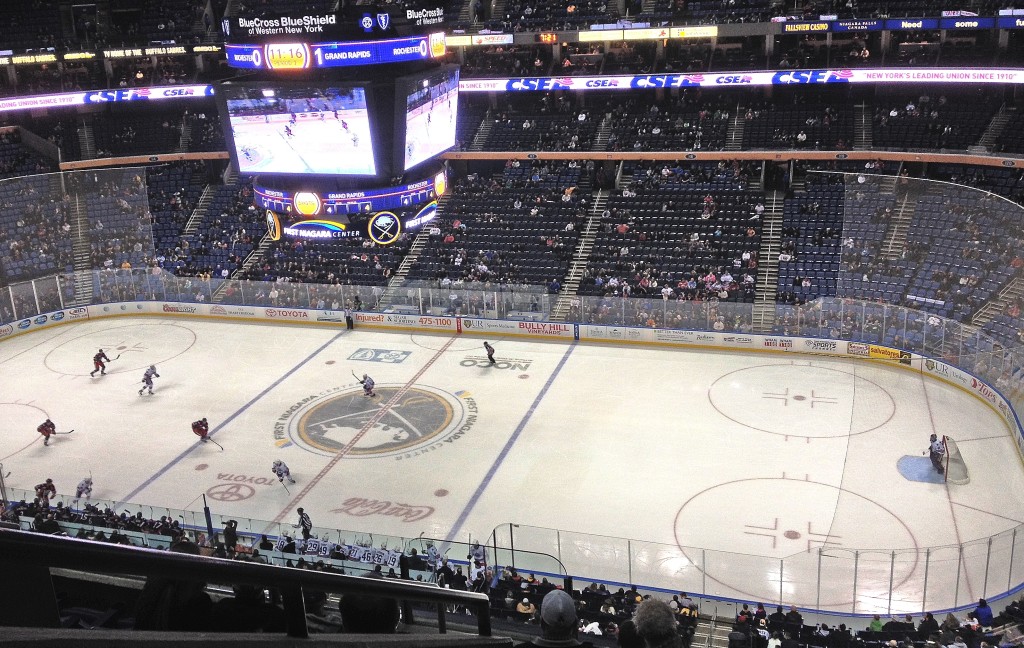 If you're an Amerks season ticket holder that made the trip out to the First Niagara Center for last night's game versus the Grand Rapids Griffins you're probably a little bitter this morning. Besides losing the game 5-1 after a completely uninspired 3 periods of hockey, you might not have seen very much of the game. The majority of Amerks season ticket holders were dumped in 300 level seats down near the ends. To add insult to injury the lower seats were more than half empty (the pic above is from halfway through the first period). While loyal Amerks fans suffered with poor sight lines and nosebleeds up near the roof, the seats they deserved sat empty. I considered whether or not to write about the seating situation–technically the tickets Amerks season ticket holders received were complimentary–but any hesitation I had was removed after listening to Rob Sanderson's post game radio show. Why? Even with only 4 to 5 thousand actual bodies in seats, many of the fans with 300 level tickets that attempted to move down to better seats were turned away by ushers. You have 300 level tickets. No seat for you! So yes, all those unfilled seats remained unfilled.
Let me be clear here–I do not believe the Amerks front office had anything to do with the situation. Ticketing was managed by the Sabres front office. That being said, what happened when fans formally requested better seats? I heard comments that they were turned away citing the lack of better seating availability. Here's the response I received from a Sabres ticket agent after reaching out to my Amerks season ticket contact.
Good Morning Chris,

I had your e-mail to Cailin O'Hara forwarded to me about your seats for tonight's game. Right now the only thing I would have available that would be lower is in section 326 I have a pair of seats in the second row. 326 is located more behind the goal where 304 is more on the side of the ice close to the faceoff circles on the Amerks bench side. If you would like me to move your seats I certainly can, but again right now that's really all I have available.

Sincerely,
Casey Jenkins
Ticket Sales Associate
Buffalo Sabres
One look at this panoramic shot of the FNC crowd proves just how untrue this was: http://www.lga585.com/wp-content/uploads/2014/02/FNCPano2.jpg.
This whole situation does raise a few questions. If the intention of this relocated game was to showcase the First Niagara Center then why place visiting fans in some of the worst seats in the building? If you wanted to warm Amerks fans to the idea of attending Sabres games then why be so harsh to fans who tried to move to better (widely unoccupied!) seats during such a low attendance game? Since so many Amerks fans are against even one game a season being moved to Buffalo, why rile the opposition base by essentially telling them they don't matter? Even Rob Sanderson, who strongly believes in having an Amerks game a season played in Buffalo, commented that he felt there should not have been a single person in the 300 level seats last night. Sabres Front Office: you failed your sister team's fan base.
I, for one, can't wait to get back to the Blue Cross Arena for a game managed by the Rochester Americans front office. Oh how sweet it is in our hometown!
About The Author
Chris Schiffner
is a New Yorker turned Rochestarian who loves the Amerks, is passionate about the success and development of Downtown Rochester, and celebrates all things local. He maintains a blog at
Schiffner.com
. You can find him on Twitter at
@ChrisSchiffner
.