The Buffalo Sabres announced this morning that Assistant Coach Don Granato has been hospitalized with severe pneumonia and will be taking a medical leave from the team.
While he recovers here are some temporary moves:
Rochester Americans Head Coach Chris Taylor will go to Buffalo to assist the Sabres coaching staff in the interim.
Current Amerks Assistant Coach Gord Dineen will assume head coaching duties in Rochester. Buffalo Sabres Development Coach Adam Mair will step in and assist the Amerks coaching staff for the beginning of the the regular season.
Randy Sexton spoke after Amerks practice this morning saying, "First and foremost we hope that Donny is on the mend. Some positive news yesterday that he's making progress but it's one day at a time. That's the single most important thing that he gets better quickly."
"We believe it is," Sexton said when asked about the transition being seamless. "Tayls has a different style than Gord but they're both equally effective. We're blessed with a strong leadership group here with Kevin Porter, Andrew MacWilliam, Zach Redmond and others that are a part of that group. We had a very positive meeting with them this morning."
Gord Dineen talked about the news as well saying, "A little bit of a curve ball but the great thing about it is that Chris Taylor has put together such a structure and has such a structure in place that it's an easy transition for me. I don't have to change the way we approach the game, the identity of our team. The makeup of our team is so good and the most important part is the leadership in the room that leads the way. It's very seamless in the transition."
Gord Dineen and Chris Taylor talked before the changes were announced and Taylor told him to just be himself.
Adam Mair has been the Sabres development coach and is familiar with the coaching staff and the players as well. He's been a part of Amerks practices in the past and stepped right in this afternoon.
Player development is talked about the most but the coaching staff is always developing as well. The fact that these changes can be seamless and happen with confidence speaks to the success the organization has had off the ice.
"He's been in this position before, he's been a head coach before," Zach Redmond said after practice this morning talking about Gord Dineen taking over. "We miss Tayls for sure but you wouldn't have been able to tell the difference out there (during practice). Everyone was working hard and that's our goal, to make this as seamless as possible."
Sexton was asked about the comfort-ability that Ralph Krueger has with Taylor and said, "I don't want to speak for Ralph but there's clearly a high level of mutual respect between the two guys. One of the things Tayls said to me after his meeting with Ralph he goes 'wow we're completely in lock step, 100% on the same page with the respect to the style of play we want to have in Buffalo and Rochester. We have some of the same drills.' I think there was some instant connection in there first meeting this summer."
If anyone is concerned about the change I'll add that you shouldn't be. Dineen has a long resume of coaching experience including four previous years as head coach.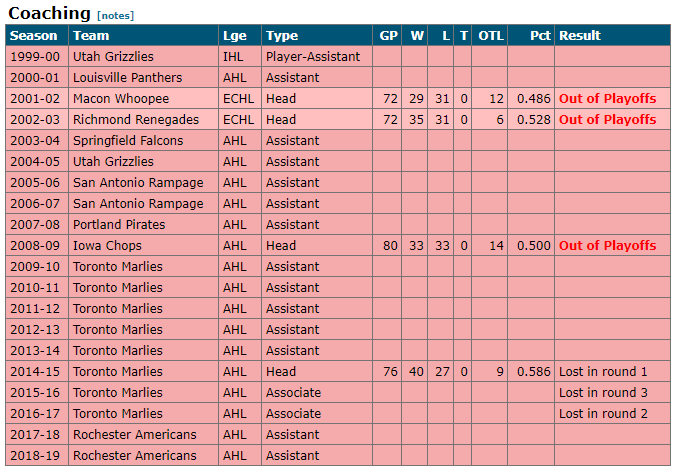 [ Source HockeyDB.com ]