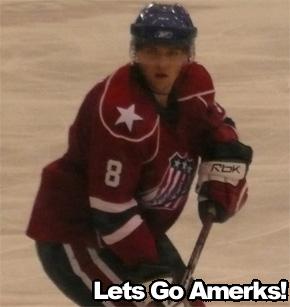 Last night, the Rochester Americans lost their seventh straight game to the Albany River Rats in a 3-2 loss.
The Amerks had a fairly good start with a great goal from Rob Globke with assists from Clarke MacArthur and Marek Zagrapan at 4:44 in the first period.  The period ended with the Amerks up 1-0.
Only 3:51 into the second period, Mike Weber made a beautiful pass to Clarke MacArthur at the blue line.  MacArthur floated in and put it past Justin Peters to stretch the Amerks' lead to 2-0.
After that, the Amerks never saw the back of the net again.  The Rats scored three unanswered goals in the second period to take the lead 3-2 going into the third.  Bobby Hughes, Brandon Nolan and Dave Gove scored for the Rats.
The Amerks would have had more opportunites to tie the game up in the 3rd if not for the three consecutive penalties they took.  Luckily, David Shantz made some great saves to keep the game within one throughout the third.
David Shantz stopped 26 of 29 shots on goal for the Amerks.
The next Amerks' game is home tomorrow night (December 21st) against the Divisional rival Toronto Marlies.  Faceoff is at 7:35 p.m. and can be heard live on Hot Talk 1280 WHTK, whtk.com, and B2 networks.
From Amerks.com:
Tomorrow night is also the beginning of the Pirate Toy Fund, courtesy of Gary the Happy Pirate.  Fans can bring a new, unwrapped toy to The Blue Cross Arena Box Office and receive $3.00 off any premium seat.  Fans can also enjoy pregame music by Gary the Happy Pirate from 6:30 to 7:15 p.m. as part of the Amerks' Friday Night Frenzies.  Also, fans who present their AAA member card at The Blue Cross Arena Box Office will receive 100 End Seating for $10.00 each (Regular $16.00) or 200 End Seating for $10.00 each (Regular $12.00).  Finally, buy one, get one free ticket vouchers are available for this game at participating Wendy's Restaurants.
Additional Coverage of the game: