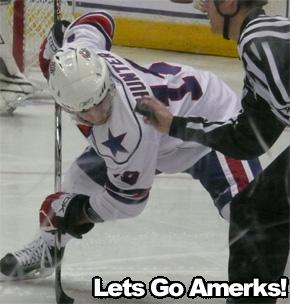 #19 Dylan Hunter
Center
05/21/1985
5'11"
190 lbs
Quebec City, Quebec
Dylan Hunter has great positional instinct and is great when it comes to using his strength to dig in the opponent's corner.  He isn't afraid to work hard and give his all when competing.
His junior career was spent entirely with the London Knights.  He played there for five seasons (from the 2001-02 season until the 2005-06 season) where he racked up an amazing 369 points in 315 games (106 goals, 263 assists).Â
In 2005, The London Knights started their season off with 31 wins in a row that year.  Dylan helped propel the team to the OHL Championship and later the team won the Memorial Cup which is the highest honor for a junior team.  Along with David Bolland and Rob Schremp, Hunter was a part of one of the best lines in the Canadian Hockey League.
While with the Knights, Dylan was a three-time OHL all-star.  During the 2004-05 season, he played in the Canada/Russia Challenge.  During his last season, he was named the team's Best Defensive Forward, the Booster Club Player of the Year, was co-winner of the Player's Player Award and won the team's Face-off Award.  Dylan became Knights' franchise leader in games played on December 2, 2005.Â
Dylan was drafted in the 9th round (273rd overall) in the 2004 NHL Entry Draft by the Buffalo Sabres.
Hunter made his professional hockey debut in Rochester on October 6, 2006.  In his first season with the Amerks, he tallied 8 goals and 20 assists in 67 games.
This season, Dylan has played in 29 games and has 7 goals and 10 assists so far.  He is seeing more responsibility and ice time and is delivering better play because of it.
Getting To Know Dylan Hunter:
LetsGoAmerks: How old were you when you started playing hockey?
Dylan Hunter: Five
LGA: Who got you into playing hockey?
DH: My dad (Dale Hunter of the Washington Capitals).
LGA: Do you have any siblings?
DH: Yes, one brother and one sister.
LGA: What is your favorite hockey moment?
DH: Winning the Memorial Cup with the London Knights (OHL – 2005)
LGA: What was your most memorable goal?
DH: Overtime winner in the Conference Finals (OHL)
LGA: When you have free time what do you like to do?
DH: Play video games with the boys.
LGA: Who is your favorite roommate?  Why?
DH: Stefan Meyer.  He always keeps me laughing.
LGA: What do you do during the off season?
DH: Play golf and work out.
LGA: What is your favorite movie? Why?
DH: Goodwill Hunting.  Why Not?
Anything else you'd like to know about Dylan Hunter?  Please leave a comment and let us know.