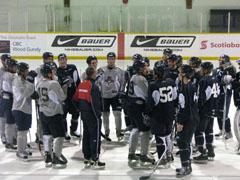 It seems rather odd to have spent the day at the Florida Panthers rookie camp, and then made it home in time to watch game four of the Stanley Cup finals.  The Panthers have begun planning for next season while the 07/08 season hasn't even ended.
We made the road trip to not only get our fix of hockey, but to also check out many likely players that will fill the Rochester Americans lineup next season (assuming the Panthers become the sole affiliate).
Speaking of the affiliation, any player that was on the Amerks team last season showed a great sigh of relief when asked about last season.  All were happy that it's over and are already focusing on next year.  I did ask if anyone had heard anything about the affiliation being made official and heard two responses, "it's up in the air," and "within a couple of weeks."  All things that we have heard before.
One way to speculate that it's more or less a done deal is that Amerk equipment manager Peter Bureaux was working the camp and dressed in Panther gear.
We had previously mentioned that it was a sort of "pre rookie" camp, but it in fact is rookie camp for the summer.  The Panthers typically hold rookie camp in July but they wanted to get a great look at all of there prospects before the draft takes place and see where they are at for next season.
Notable players missing from the camp were Stefan Meyer, Drew Larman, Rob Globke, Adam Taylor, and Anthony Stewart.  All players that still have not been resigned at this time.
Tyler Plante was not at camp either but is recovering from shoulder surgery.
Derrick Lapoint (4th Round pick in 2006) has been at camp but unable to practice as he recovers from a concussion suffered about a month ago.
It was a fast paced hard workout during the morning and afternoon sessions on the ice.  Having watched many Amerks practices last season it was like watching a different team but with the same players, if that makes sense.  The coaches were engaged and let the players know when they did well, and especially when they didn't.  Something rarely heard or seen at Amerk practices.
Two factors could have attributed to that – the coaches, or the dual affiliation.  It was often easy to see the divide between the two sides.  It was probably also tough at times for the Amerk coaches to handle players the way there parent teams wanted, rather than one team.
It was well worth the three plus hour drive to Canada to spend the day at camp.  It was not only exciting to be watching hockey, but also exciting to watch a young group of players enjoying themselves and working hard.  Last seasons Amerk team often enjoyed themselves as well, but that didn't result in much in terms of performance.  Time will only tell.
We will have much more over the coming days as far as details about individual players.
I'll leave you with a list of those on the Teen Ranch Roster 2008:
Sergei Gaiduchenko(Goalie)
Michal Repik
David Shantz (Goalie)
Dan Collins
Tanner Glass
Corey Syvret
Keaton Ellerby
Brian Foster (Goalie)
Shawn Matthias
Franklin MacDonald
Derrick LaPoint
David Brine
Brady Calla
Luke Beaverson
Andrew Sweetland
Jason Garrison
Jordan Henry
Lachlan MacIntosh
Evgeni Dadonov
Selleck (not the actor Tom)
Michael Caruso
David Jarram
Michael Frolik
Peter Aston
Kenndal McArdle