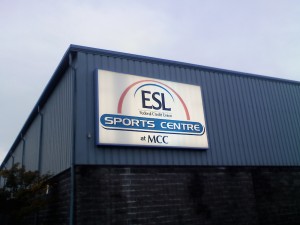 We've had a slow summer, but are back live at the world class ESL Sports Centre for the opening of the Amerks training camp.  As the teams new motto says, it's a new day for a Rochester tradition.  Keep this page bookmarked and refreshed for updates.
Here's the expected roster for camp that starts in about 20 minutes:
PLAYERS IN CAMP (2007-08 club)
GOALTENDERS
Chris Beckford-Tseu (St. Louis-NHL, Peoria, AHL)
Tyle Plante (Rochester-AHL, Florida-ECHL)
David Shantz (Rochester-AHL, Florida-ECHL)
DEFENSEMEN
Michael Caruso (Guelph-OHL)
Jason Garrison (Minnesota-Duluth-WCHA)
Rory Fitzpatrick (Philadelphia-NHL, Philadelphia-AHL)
Luke Beaverson (Rochester-AHL, Alaska-Anchorage-WCHA)
Keaton Ellerby (Kamloops-WHL, Moose Jaw-WHL)
Peter Aston (Rochester-AHL, Florida-ECHL)
Jordan Henry (Rochester-AHL, Florida-ECHL) Doug O'Brien (Lukko Rauma-FNL)
Franklin MacDonald (Rochester-AHL, Florida-ECHL)
James DeLory (Oshawa-OHL)
Dominic D'Amour (Wichita-CHL, Fassa HC Italy)
Ryan-James Hand (St. Hyacinthe-LNAH)
Travis Gawryletz (Minnesota-Duluth-WCHA)
FORWARDS
Drew Larman (Florida-NHL, Rochester-AHL)
Stefan Meyer (Florida-NHL, Rochester-AHL)
Brady Calla (Rochester-AHL, Kamloops-WHL)
Mike Duco (Kitchener-OHL)
Dan Collins (Rochester-AHL, Florida-ECHL)
Andrew Sweetland (University of Maine-Hockey East)
Janis Sprukts (Lukka Rauma-FNL)
Kenndal McArdle (Rochester-AHL, Florida-ECHL)
Michal Repik (Vancouver-WHL)
Steve MacIntyre (Providence-AHL)
David Brine (Florida-NHL, Rochester-AHL)
Danick Bouchard (Texas-ECHL)
Ryan Smyth (Dayton-ECHL)
Ryan Davis (Did Not Play)
Mark Johnson (Youngstown-CHL)
Mark Lee (Hartford-AHL, Charlotte-ECHL)
Jacob Micflikier (Springfield-AHL, Stockton-ECHL)
Tyler Donati (Binghamton-AHL, Elmira-ECHL)
Kevin Cooper (Bossier-Shreveport-CHL)
Neil Clark (Grand Rapids-AHL, Bloomington-IHL)
Camp has started!  Exciting.  What a difference a year makes, after an initial warmup they got right into practicing.  Beckford-Tseu seems like the goalie we've always wanted after last season.  Everyone started skating hard, Jason Cipollahas already started encouraging the guys to work hard.  Ten minutes in and seems like a different work ethic already! -Keith Wozniak
The players on the ice now seem to be most of the invitees.  The only people on the ice that were here last year are Plante, MacDonald, Henry and McArdle.  I'm assuming the other vets will be out after the first hour. -Alyssa Wozniak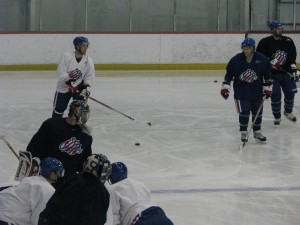 Something nearly unheard of for the past few years is happening at Amerks' camp right now.  A coach who gives the players loud instruction when they aren't doing what he wants.  Last year practices were so quiet you could hear a pin drop in the rink.  So far you keep hearing "PUT YOUR STICK DOWN!  GET IN THE CORNER! DIG DIG DIG!"  It's very refreshing to be able to hear a real practice going on. -AW
Cipolla is following suit quite nicely as well yelling out to the players and giving them instruction.  I personally always liked Cipolla last year.  The players all seemed to respect him and he worked really hard with them day in and day out on the ice. -AW
Kenndal McArdle is looking very fast this year.  Last year at training camp he looked fast but, this year he is stopping on a dime and making it hard for anyone to catch him.  He seems to be favoring the slap shot over anything else, and it has a lot of power to it.  He is certainly trying to solidify a spot on this roster by really digging in the corners, something he lacked last season. -AW
Beckford-Tseu has been run over twice already by sloppy skaters who I don't recognize.  It doesn't phase him at all.  He is looking very solid even though it is just the first practice here.  I am very excited to see what he is going to have to offer this team this year. -AW
Including staff, a massive crowd of 20 is here to witness the first practice.
It'd be nice if the players had numbers or names so we knew who everyone was, take care of that tomorrow for us! – KW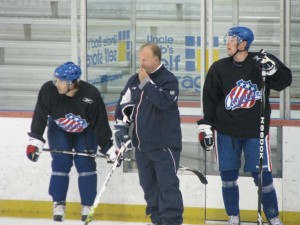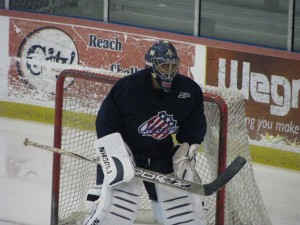 Staff and media are outnumbering fans, leave work, take the kids out of school, hockey season is here! – KW
Another save by Beckford-Tseu!  He is looking great.  If he keeps making saves like that this season, he is going to have the crowd in the seats and on their feet. -AW
The defense is hard at work.  It's nice to see rebounds being deflected AWAY from the net and not right into the hands of the offense for an easy shot.  The same can be said about Plante.  He is doing a good job not giving up those juicey rebounds our team was known for last year. -AW
Players are really pushing the net.  Goalies are flying all over the crease.  Another thing that never happened last year.  I can probably count the number of times the net was rushed in the 2007-08 season on one hand.  Let's go boys! -AW
I can finally see more players lining up to get on the ice.  Thank god.  I have missed some of our vets (I know most of you must think I am crazy).  Stefan Meyer is first in line.  He is going to be a true leader on the team this season.  I believe it to my soul. -AW
David Shantz finally has a painted helmet with the Panthers logo.  It should be a good battle between him and Plante for a position here.
A few players commented on the way to the ice that the team is going to be fast and tough this year.
"Big Mac" is a big dude.
RJ Hand had a big smile heading onto the ice, the look of someone excited to work hard to make the team.
Cipolla is leading the "vets" so far for this practice.  -KW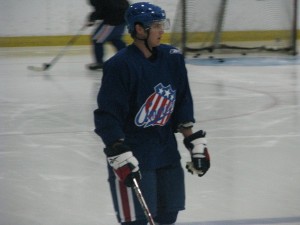 Stefan Meyer was the first on the ice for the second group.  He is very excited for the new season to start and is looking forward to showing the Amerks' coaches and his teammates what a true leader is all about.  I think he is really going to be a help for the younger guys.  And he was impressive in the Florida Panthers' training camp this year…An assist and two good fights.  Both against NHL vets.  He was only out on the ice for a few minutes to stretch his legs as he nurses his groin.  He's sporting a nice broken nose as well from his fight against Rhett Warrener.  He worked hard at Panthers camp, but will be fine for the start of the season here. -AW
Rory Fitzpatrick is here to show the younger guys that he is not going to mess around.  He has thrown a few guys right into the corner as if to give them a warning that they better be here to work very hard this year. -AW
Peter Aston has gotten much faster over the summer.  He has really showed up to play and isn't going to let there even be a little chance that he gets sent down to the Everblades. -AW
Shantzy needs to be careful of the five-hole.  It seems to be the only place he can't block a shot.  But, he is the only goalie out there yelling directions to his defensemen…there needs to be more of that from Beckford-Tseu and Plante. -AW
Keaton Ellerby is really giving some of the vets a run for their money.  He has stolen the puck from Drew Larman twice already. -AW
Ryan James Hand is going to be a nice surprise for people who have never seen him play and have only heard of his reputation in other leagues.  He may be ready to drop the gloves at any time but, that is not his only talent.  He is quick on his feet and playing very well defensively.  I still can't wait to see him get into a nice brawl though…I'm not going to lie.  I love a good fight. -AW
I was just thinking about Ryan James Hand again.  I really hope he makes this team.  First of all, having a 4th line that can take out a whole team with a few punches would be awesome.  A line of Big Mac, Hand and Duco.  All three can more than hold their own on the ice against other teams' 3rd and 4th lines.  And what an exciting style of hockey the Amerks would be playing. -AW
Brady Calla and Mike Duco are quick and have some fast shots.  There's quite a difference between watching some of these new guys and the laziness we saw last year from some "vets."
It's interesting to watch Shantz and Plante working hard to kick rebounds into the corner.  Goaltending 101.
Does it seem sad that we're excited for the basics?  -KW
So long Bic Mac, was claimed off of waivers by the Oilers.  Since the Oilers claimed him, if he's not on there 24 man NHL roster the Panthers would have first dibs on claiming him back off of waivers.  -KW
A great first day of training camp, other than Macintyre being claimed by the Oilers.  RJ Hand is probably going to be working extra now to claim the tough guy spot on th team.
The team already had a team photo at the end of practice!
It's been cold, and in a gross way we sort of missed that "hockey" smell.  Thanks for reading!