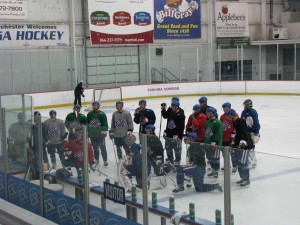 Here we are at the morning skate at a colder than usual ESL Centre.  The first group is on the ice right now, the group that we assume will be playing tonight against the Crunch.  Shantz and Beckford-Tseu are the goalies on the ice.  Would guess that Shantz will be starting tonight, Plante tomorrow.  Kenndal McArdle and Peter Aston are on the ice as well.
"This isn't a light skate, it isn't just a game day skate, it's a practice."  Could be heard after the first round of drills.  The guys were also being yelled at to gain speed once they hit the blue line whether they have the puck or not, and not to slow down.
Nice save Shantz!  He's quite vocal on the ice as well as well as faster.
Slick pass by McArdle.  He's probably not guaranteed a roster spot, but as long he stays healthy he should be around.
RJ Hand may not be the fastest skater on the ice, but he seems to have a great sense of what's going on around him on the ice and keeping opposing players off the play.
Shantz finally has his helmet painted!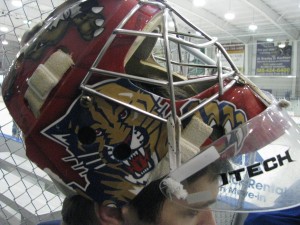 They're really working hard at drills in the corners battling to get/keep the puck.
Dan Collins, remember when everyone thought he was going to be the superstar player of the year last year?  Seems to be the forgotten player.
First group is done for the morning.
Towards the end RJ Hand and James Delroy were throwing some practice punches and sharing some tips.  On the way off the ice Hand commented "we'll see, I'll have more energy tonight" when I asked if it's a preview for later tonight.  Video later.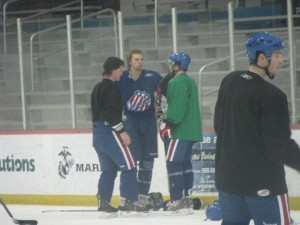 Sprukts is on the ice!  Stefan Meyer is as well.  We'll see if he stays out or is just stretching his legs.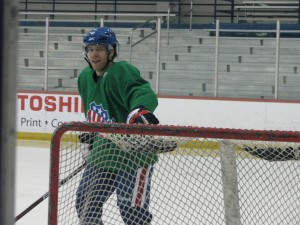 The period of time is over for a player to be picked up off of waivers and Stefan Meyer is practicing.  Coincidence?  Maybe, maybe not.
It's cold here.
Sprukts and Meyer seem to be attached at the hip.  Anything less than a highly productive season from those two will be a disappointment.  I'm guessing we'll see a lot of Meyer this season unless a full time spot opens on the Panthers.  The Panthers won't want to see him claimed off waivers.  Great for the Amerks.  Another excellent point to go along with that is that he's not a player like MacArthur or Stewart who seemed to hate being in the AHL after they got a taste of "the show."
Signing off for now, not much else to report.. fingers are cold.  The guys who are pretty much guaranteed a roster spot are still practicing.
We hope someone out there has enjoyed our updates!