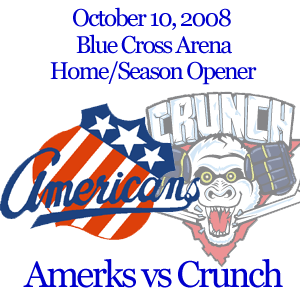 The start of the 2008/09 Rochester Americans season is finally upon us!!  The organization has new ownership, a new sole affiliation, new players, new fans, new web site.. let's play some hockey.  Here's some additional notes for opening night, along with events at the arena.
When asked about Fridays opener after practice on Thursday morning, head coach Benoit Groulx commented, "Yes, I'm very excited.  We have a good group.  The kids are working really hard.  We'll see tomorrow if it's paying off."
Keaton Ellerby has an "upper body injury," but whatever that injury may be, it doesn't impact his skating one bit.  After practice on Thursday morning he was doing sprints for about 15-20 minutes with Cipolla.  On the way off the ice Keaton jokingly commented to a 4yr old watching, "don't play hockey, never play hockey."  We still think Cipolla could suit up for the team if needed.  He replied, "yea, behind the bench."
As of Thursday afternoon Shawn Matthias was on his way to Rochester to join the team.  Matthias made headlines last season when the Panthers called him up from juniors and he had an immediate impact on the team.  He should be exciting to watch.  We're guessing that unless he's putting the puck in the net nightly he'll be sticking around for a while.  I can't imagine the Panthers wanting him to get a case of the Anthony Stewart or Clarke MaCarthur illness (get a taste of the show and hit a slump back in the AHL due to thinking you're above it).
Tanner Glass has been named as an alternate captain.  He's also sporting #15 this season, ditching #33 that he wore last season commenting, "[33] is the worst number ever.  It's a goalie number."
Can't really comment on what the lines will be, they were all over the place.  A good guess at the starting lineup would be Janis Sprukts, Stefan Meyer, Michal Repik, Rory Fitzpatrick, Peter Aston, and Chris Beckford-Tseu.
Not that we ever need a reason to beat the Syracuse Crunch, but they are currently on a 15 game regular season winning streak.  The Crunch needs 3 straight wins to get a new spot in the record books, a solid win, and spoiling that effort would be excellent.
If you can't make it to the game, sign up to receive text message updates!  The only updates you'll get are links to new Lets Go Amerks articles along with scores from every home game.
The puck drops at the typical 7:35pm start time, but make sure to get to the arena early.
Gates will open at 6:30 p.m. On Opening Night, fans will enjoy one of the most exciting openers in the history of the franchise, as the organization provides pregame entertainment, LIVE music, free autographs, kids' events and the largest bobblehead giveaway in team history.
Opening Night will start with a bang as Shane Yellowbird and The Skycoasters perform FREE concerts outside the arena to kick off the Block Party.
The Skycoasters will play from 4:30 to 6:00 p.m. and will be followed by country music recording artist Shane Yellowbird from 6:15 to 7:15 p.m.
As part of the Block Party, kids and adults will also get to meet area mascots, face painters, clowns and famous Amerks alumni as Jody Gage, Dick Gamble, Doug Gibson, Stan Jonathan and Geordie Robertson to name a few. Further, fans will be able to jump around in the bounce house and get their first look at the Amerks' dance team, "The American Spirit".
Upon entering the arena, the first 10,000 people will take home a Rory Fitzpatrick bobblehead. There are also chances to ride around in bumper boats during the second intermission and to take part in all of the exciting promotions throughout the game.