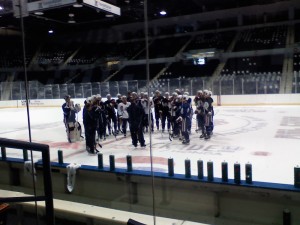 The Amerks play the Syracuse Crunch tonight for the 2008-2009 home opener.  The game starts at 7:35pm at the Blue Cross Arena.
I went down to practice today to see what the team would look like on a game day.  Last year, whenever I was at a game day practice it just looked like kids in a gym class, players skating around in circles just passing the puck to each other and usually playing some childish game at the end.
Today was a whole new ballgame.  There were continuous drills from players working extreemly hard. 
Yesterday Beaverson, Collins, MacDonald, Brine, McArdle, Garrison, Caruso, Duco, Clark and Calla had to be told to get off the ice.  Something that never would have been said last year.  The team actually wanting to be on the ice this year is a nice change of pace.  Today they again the players were told that they needed to be off the ice in five minutes.  They are more than willing to be out there all day.
Benoit is very happy with the way things are going with the team.  When asked if he is excited about tonight. "Yes, I'm very excited. We have a good group of boys.  The kids are working really hard.  We'll see tonight if it's paying off."
Here are the lines as I saw them today:
Glass – Sprukts – Meyer
Repik – Matthias – Sweetland
Duco – Larman – Clark/Collins
MacArdle – Brine -Stewart
The defensemen were paired up differently each time they were on the ice so I couldn't get a good view of who would be paired with who.
Not playing tonight due to injury are Jordan Henry (knee) and Keaton Ellerby (right index finger).
Beckford-Tseu is most likely going to be starting in goal for the Amerks tonight so get ready to see what he is made of.
Remember that festivities start early tonight.  From Amerks.com:
Gates will open at 6:30 p.m. On Opening Night, fans will enjoy one of the most exciting openers in the history of the franchise, as the organization provides pregame entertainment, LIVE music, free autographs, kids' events and the largest bobblehead giveaway in team history.

Opening Night will start with a bang as Shane Yellowbird and The Skycoasters perform FREE concerts outside the arena to kick off the Block Party.

The Skycoasters will play from 4:30 to 6:00 p.m. and will be followed by country music recording artist Shane Yellowbird from 6:15 to 7:15 p.m.

As part of the Block Party, kids and adults will also get to meet area mascots, face painters, clowns and famous Amerks alumni as Jody Gage, Dick Gamble, Doug Gibson, Stan Jonathan and Geordie Robertson to name a few. Further, fans will be able to jump around in the bounce house and get their first look at the Amerks' dance team, "The American Spirit".

Upon entering the arena, the first 10,000 people will take home a Rory Fitzpatrick bobblehead. There are also chances to ride around in bumper boats during the second intermission and to take part in all of the exciting promotions throughout the game.
I am very excited to see my friends who I haven't seen since April.  Being a season ticket holder has it's benefits and making friends that you get to see all winter long is a huge one.
See you all tonight!  Let's go Amerks!!!