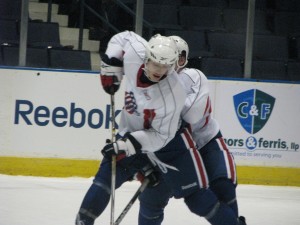 Shawn Matthias was out on he ice today for his first non-game-day practice with the Amerks today.  People think he has been invisible in the very very short time he has been here, but let's not forget that he just got to the team on the day of the first game.  He hasn't had any chance to get on board with his teammates or line mates yet.  People need to give him a chance before they immediately toss him into the same group as Anthony Stewart and Clarke MacArthur (only interested in playing in the NHL, doesn't do anything in the AHL).
Matthias isn't very proud of the way he is being portrayed by the media so far this season, "There have been a few sites writing bad things about me already, I haven't even gotten a point yet." He did just arrive in Rochester Friday morning after finally being sent down from Florida, "Once I get to practice [more] with the team, I'll start scoring goals, I know it."
So, here we are at practice again. It's nice to get down here once a week or so and see what the coaching staff has decided were the weakest points from the past weekend.  We are still being pleaged by a few injuries in our lineup.
Keaton Ellerby is on the ice, but still isn't doing a full workout with the team.  When they rest of the team is going full contact, he stays at the other end of the ice just shooting pucks on the empty net.  Hoepfully, his finger is healing well and he can get back into it full throttle by the end of the week.
Jordan Henry and Stefan Meyer are still not practicing.  Meyer doesn't expect to be back for a while.  Jordan did skate on the ice by himself today and expects to be back with the team soon.
Peter Aston and Neil Clark are not practicing today either.
Cipolla said he wants to hear everyone talking on the ice to help each other out.
They are working on forechecking (something that clearly needs to be worked on after this past weekend). Gametime situations. Ten players at a time doing each drill (not including the goalies obviously).
Everything seems to be about forechecking and moving the puck.  They are also working hard figuring out how to keep the puck in the zone and how to get it OUT of the zone quickly.  Last year, getting the puck out of our zone was a major problem and it looked like it was bleeding over into this season on Sunday when the team couldn't get the puck over the blue line to save their lives.
I can just keep hearing Benoit say, "It's not happening, it's not happening," as they run the forechecking drill over and over again.  This coach is not going to let them get away with mediocre playing.  They will continue working the same drill until everyone is getting it right and then even longer.
They didn't do well enough during that drill in Benoit's eyes.  They had to do extra skating because of it.
Cipolla is working with Matthias in the corner showing him how to really dig in there and get the puck out.
Drew Larman is working extremely hard.  He must have gotten our memo about not liking his lack of work ethic during training camp. He looks like he is trying to get that other "A" that hasn't been given to a player yet (perhaps the coaching staff is waiting for Meyer to return from his injury?)
The defensemen seem to have been let go for the day while the forwards are all still working on keeping the puck away from the opponent.  They have to stay in the faceoff circle and keep that puck away.  It seems pretty elementary to most people, but our team needs this work.  If they don't work hard enough, they do pushups.  No laziness tolerated this time around.
Both goalies are still working with the goalie coach.  Caruso, Garrison and Beaverson are helping out by taking some good slapshots from the point.  Garrison really has a blast on him.  He is going to be a force this season and I am really glad he is here, he is quickly becoming my favorite defenseman on the team.  Ellerby is in front of the net doing deflections and rebounds.  That is a better sign for his finger seeing as he was mostly JUST skating last week.
Once again the players had to be told to clear the ice.  I think they would stay out there all day if they could. Ellerby is still out with Cipolla doing more skating and puck-handling drills.  It's still refreshing to see a player being held after practice to work on improving his skills.  That is something I never saw once last season.
They are going to need to continue to work this hard all week if they have hopes of beating a very tough team this weekend when they play the Manitoba Moose on Saturday and Sunday in Winnipeg.  The Moose are ranked number one in our division and are going to be very hard to defeat.  I'm sure it isn't going to help that the Amerks are skating into the game 0-3 for the season.  Once you get in the mindset that you aren't playing well, it's hard to break out of it.  We fans all know about that though…
I have a good feeling that this weekend will be our weekend.  The week that our lines gell together and start really doing what they have the potential to do…score goals.
On the goaltending front, they need to be well prepared.  The Moose are not running short on players that can score goals.  So, Beckford-Tseu and Plante need to be on their toes 100% this weekend.  I am still hoping the signing of Beckford-Tseu wasn't a mistake on the Panthers' part.  Only time will tell, but we don't have that much time.  The fans are already restless after last season and are NOT going to tolerate a losing team again.
Goaltenders:
1. Chris Beckford-Tseu
2. Tyler Plante
Defensive Pairings:
1. FitaPatrick – O'Brien
2. MacDonald – Garrison
3. Beaverson – Carusso
Lines:
1. Stewart – Sprukts – Repik
2. Glass – Larman – Calla
3. Duco – Matthias – Sweetland
4. Collins – Brine – McArdle
I like the way the first line looks.  Repik is a solid player and will only improve throughout the season.  Although, I don't expect him to be on the line with Sprukts once Meyer returns.  While he is there, it should teach him a lot and give him an advantage over the other teams second and third lines.
Glass and Larman play really well together.  Calla looks like he is still trying to catch up with them.  I think he has more than enough potential, he just needs to find himself.
The defensive pairing of O'Brien and Fitzpatrick seems to be gelling together nicely.  They are really getting in sync with each other.
That is about it for today.  I am still more than excited about this season.  Watching these kids work as hard as they are everyday can only mean improvement.  There is no screwing around during practice this year and it seems like it is going to stay that way under the watchful eyes of Benoit.