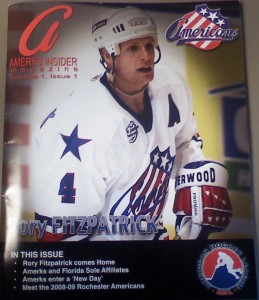 As you walk up the main stairs at Blue Cross Arena before a home game you get the opportunity to buy the Amerks Insider magazine, also known as the program.  The Insider magazine costs $7 and also comes with the lineup for that night if you buy it at a game.  Here's a further look inside the Insider.
There is really only one good reason I could find to buy the magazine, that is for the full color pages of each player.  They're quality pictures and are perfect for anyone who collects autographs.  Here's an example of Tanner Glass and Jordan Henry: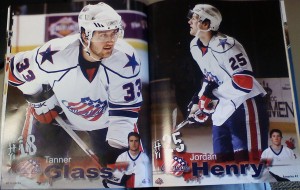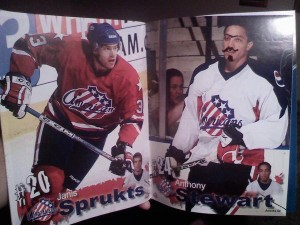 You'll find similar pictures of (in no real order): Peter Aston, Chris Beckford-Tseu, Luke Beaverson, David Brine, Brady Calla, Michael Caruso, Dan Collins, James DeLory, Mike Duco, Keaton Ellerby, Michael Frolik, Jason Garrison, Tanner Glass, Jordan Henry, Drew Larman, Franklin MacDonald, Steve MacIntyre, Shawn matthias, Kenndal McArdle, Stefan Meyer, Doug O'Brien, Tyler Plante, Michal Repik, David Shantz, Janis Sprukts, Anthony Stewart, and Andrew Sweetland.
Breaking it down there are 46 pages of content and 28 pages of advertisements.  Out of the 46 pages of content, 27 of those are full page pictures of the players.  That leaves 19 pages of content.  Those remaining 19 pages include the table of contents, two of hockey terms, roster, team staff, ticket info, schedule, and arena info.
So what articles can you read in the magazine?
Rory Fitzpatrick comes Home
Brief article on Benoit Groulx
Amerks and Florida Sole Affiliates
Amerks enter a "New Day"
If you're reading this chances are you surf the internet often and have probably already read similar articles on these topics.  You know about the coach, about Rory, about the affiliation, and the new path the team is taking.
Coming up in next issue is: meet Chris Beckford-Tseu, sit down with Mike Duco (doesn't Amerks.com already have those?), and a Q&A with the Panthers Nathan Horton.
Some magazines are good for the articles, others are good for the pictures, this one is good only for the pictures.  So, if you like the pictures, $7 would be worth buying it.  We'll be suckers and buy one next month as well and let you know what's inside!  Hopefully it's more than those three articles and another 27 pages of the same pictures.