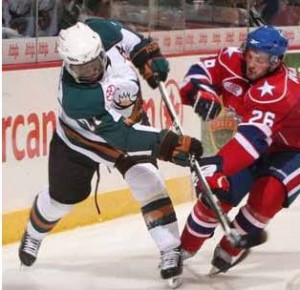 The Rochester Americans lost two straight games this weekend against the Manitoba Moose and are now the only winless team in the American Hockey League.  It's only five games into the season, morale amongst fans has already dropped, and we're repeating the same story lines as last season.  It wasn't supposed to be this way.
The Moose won on Saturday night 4-1, Tanner Glass scored the Amerks only goal at 10:40 of the first period.  It was assisted by Kenndal McArdle and Luke Beaverson.  It was the second goal of the season for Glass.  Chris Beckford-Tseu stopped 37 of 41 shots.
The previous night the Moose won 3-1, David Brine scored the Amerks only goal that night at 7:07 of the third.  It was assisted by Franklin MacDonald and Jason Garrison.  Tyler Plante stopped 28 of 30 shots.
The game on Friday night was tied 1-1 until the Amerks tried to clear it from deep within their own zone and Raymond Sawada kept the puck from crossing the blue line and two passes later Cullen slipped the puck under a diving Tyler Plante for the goal.
A bad mistake late in a game that was tied.  Like I said, familiar story lines.
Rory Fitzpatrick was hit from behind in the first period of Saturday nights game and did not return.  No further details available yet on his injury.
It was yet another game where the highly anticipated Shawn Matthias recorded only one shot and was a -2 on the night.
Our veterans in Drew Larman and Janis Sprukts also failed to record any points.
Stefan Meyer is still out injured.  The same for defensemen Keaton Ellerby and Jordan Henry.  Maybe it's those three players that are the missing links to making this team a success?
The goaltending isn't much different than last year.  Although it's not fair to just blame the goaltending, appears as if the defense needs some work as well as they allowed the Moose to shoot the puck 41 times on Saturday night alone.
It's now been a week since we were told an "enforcer" was in the works.  It's also been reported that Jody Gage is on a scouting trip in the ECHL.  I can't imagine many other AHL or NHL teams are knocking down the doors for those players, what's taking so long?  At this point though, stop looking for an enforcer and get someone to score some goals.  When other teams expect to beat us they'll give more players opportunities to go out and make our bodies hit the ice.
Dear Florida Panthers and Jody Gage: Please explain to us why we shouldn't already have our morale lowered in expecting this to be another long season.  I know it's only been five games, and in another two weeks we may look back and say we were too quick to think this way, but after last season I think we're all justified.
We'll try and have updates from practices this week.
10/17/2008 – AHL Game Summary
10/18/2008 – AHL Game Summary