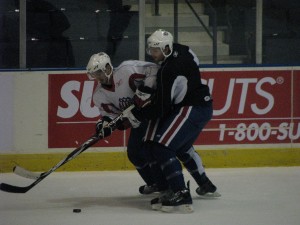 The Amerks returned to practice this morning after a trip to Winnepeg over the weekend where they lost two games against the Manitoba Moose.
Tanner Glass and Jason Garrison have been the two best players this season, it's noticeable in practice as well.  Any time you see a great play it's one of them.
Amerks Owner Curt Styres was watching practice as well and I spoke with him for a few minutes regarding the team.  One of the things he asked was what I thought it would take to fill Blue Cross Arena.  My reply was simple, a winning team that is also tough.
Styres seems to like players that aren't necessarily on the ice just to drop the gloves, but can play and hit and will also give others a sense of security.  He wants players to be able to take that extra stride into the corner where the opposing player following may think twice about what they do knowing who is on the bench watching.
One thing that Styres suggested to Gage was to have the team practice without shooting the puck.  You do have to wonder what good it really does when shots are always going into your own goals chest or pads.
I sense from talking to Styres that he knows something needs to be done.  It also seems as if they are being cautious about not just signing a random player to a PTO and hoping it works out, but trying to get someone that will make the impact needed.  Janis Sprukts and Rory Fitzpatrick havn't sold as many tickets as probably hoped.  Which also comes back to winning.
We can't report much else player wise.  They typically do everything they're supposed to during practices and they look good doing it.  They skate hard.  They handle the puck well.  They have fancy stick work getting around defenders.  But as we've noticed, playing against an opposing team is a whole different story.
We can say that Shawn Matthias looks great.  But, what good does that do if it doesn't win a game?  It's also not fair to keep singling him out, there's a lot more players on the ice in the same situation.
Karl Stewart was not practicing.  As we reported last night in our injury update, Stefan Meyer, Jordan Henry, and Rory Fitzpatrick were all off of the ice as well.  Ellerby was participating in all of the drills.
It doesn't appear that Fitzpatrick suffered a concussion on Saturday night.
Senior VP of Operations Jody Gage was also watching alongside Styres, when I asked if we'll see any changes Jody only said that they, "are working on some things."
Something needs to happen, especially after looking at these stats (looked up and posted by LetsAddMoreBanners on Rochester Sports Fan):
Power Play: 7.7% (Ranked 25th out of 29, Amazingly there are 4 teams that are worse, didn't think that was possible)
Penalty Kill: 74.1% (Ranked 28th out of 29)
Both our Goalies are 34th and 35th out of 45 registered Goalies in statistics this season.
Our leading scorer (Jason Garrison, 3 Points) sits as 124th on the League's scoring list.
Amerks and Panthers fans are both starting to wonder about Michael Frolik.  The highly coveted rookie has spent more time being a healthy scratch than playing.  We had hoped he would be sent down to the Amerks to get some playing time, but this quote from Panthers coach Peter DeBor in the Miami Herald seems to paint a different picture:
"If we get to the quarter mark of the season and he's not playing, obviously you start to weigh if this is detrimental to him or not," DeBoer said. "This early, he's learning about the NHL; he's learning what it takes and is on the ice with NHL players every day."
The Amerks next game is Friday night against the Quad City Flames, we'll keep you updated throughout the week.