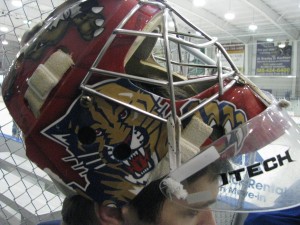 The Florida Panthers assigned goalie David Shantz to the Dayton Bombers on Monday.  I'm sure many Amerk fans will get a laugh from the second line of the article below.  We still believe in Shantz and wish him the best of luck in Dayton!  Below is from DaytonBombers.com
NHL's Florida Panthers Assign Goalie to Bombers

David Shantz to Provide Experience and Leadership to Team

October 20, 2008

Dayton, OH – The Dayton Bombers have been assigned goaltender David Shantz from the National Hockey League's Florida Panthers, head coach Bill McDonald announced today.

Shantz, a 2nd round draft pick, 37th overall, by the Panthers in the 2004 NHL Entry Draft, enters his third professional season after splitting the past two years between the Panthers "AAA" affiliate, the Rochester Americans, and their "AA" ECHL affiliate, the Florida Everblades.

"David's experience should help our younger defensemen and (rookie goalie) Paul Drew," McDonald said. "This is a big year in his career and we're looking forward to what he brings to our organization."

During the 2007-08 season, the Burlington, Ontario, native went 11-5-3 with the Everblades, with a 2.56 GAA and .916 save percentage. The year before he was 13-7-1 with Florida, earning a 2.96 GAA and .908 save percentage.

Shantz won an OHL championship with Peterborough in 2005-06, going 16-3 in the post-season. He played two seasons with Mississauga, advancing to the playoffs in both 2004 and 2005.

"I've been fortunate enough to compete for league championships with a variety of teams," Shantz said. "I understand what it takes to win and to compete every day."

In a separate transaction, goaltender Mike Brown has accepted a contract to play in Germany for the duration of the 2008-09 season. Brown was 1-0-0 with the Bombers after saving 17 of 21 shots in the Bombers 5-4 season opening overtime victory against Cincinnati on Saturday night.

The Bombers are on the road this weekend against Johnstown (Friday, October 24 at 7:05 p.m.) and Cincinnati (Saturday, October 25 at 7:30 p.m.). Listen or watch on the B2 Networks by clicking here and selecting the radio or web broadcast of the Bombers.

Full and partial season tickets for the 2008-09 Bombers 18th Anniversary season are on sale now! New season ticket information is available in the Bombers office or by contacting (937) 775-4747. For ticket information visit www.daytonbombers.com. Full plans can be pro-rated for your convenience.