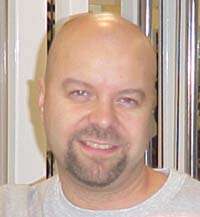 Why is Craig Schaller still doing the Amerks' postgame show?  He clearly could care less about what is happening to the Amerks at any given time.  How does he start off his post-game show on Saturday?  By telling the Amerks' fans how the Pirates won their first game and we didn't and how the Pirates are going to be far better than the Amerks this season.
It's almost as if he wants the Amerks to fail and Portland to walk away with the Calder Cup just so he can get on his high horse and say he was right all along and the stupid fans of Rochester don't know anything.  When really…who is the one who doesn't know anything?
On October 10th, he said MacIntyre was signed by the Calgary Flames off of waivers.  Really Craig?  Seriously?  How much time would it have taken him to look anywhere and see that he was signed by the Edmonton Oilers?  Maybe 30 seconds.  He could have checked on Amerks.com, lga585.com, Kevin O.'s blog…anywhere.  But, instead he just gave whatever information he felt like.  Of course, that makes him very reliable.
I highly doubt he knows anything about the Panthers organization, coaches, players or fans.  We may not live in Florida and their may not be many Panthers' fans around here…but, it isn't hard to find things online.  But come on, why would anyone take a minute to look anything up?  What kind of show would that give us?  How boring…
I understand the team is having a rocky start, but if someone is turning on the radio and hears him saying how horrible the team is already, what makes that person or others want to come to an Amerks' game?  What makes them want to believe the team will get better?  I believe they will get better…and believing is what the team needs.  Having their own fans against them isn't going to help them become stronger, it will only make it harder for them.
There is nothing wrong with being a Sabres' fan.  I am a Sabres' fan.  There is nothing I want more than to see the Sabres raising the Cup over their heads (except to see the Amerks once again raise the Calder over theirs).  But, this is Rochester and we are Amerks' fans.
Last night on the Penalty Box, Matthews was talking about the Amerks and made a comment about how Buffalo management contributed to the Sabres leaving and Craig murmured in the background, 'well, I don't know about that'.  He can't just ruin his own show, he has to make sure to get his horrible attitude all over anything Amerks' related.
The Amerks are the number one priority of this city's hockey fans and they should be.  We are not the Sabres' farm team any longer.  That may change in the future, it might not.  But, that's just the way it is for now.  You can hate the Panthers and think this was a horrible mistake, but you don't tell the fans of this proud hockey town that their team isn't worth it.
Craig, you can cheer for the Sabres all you want, but don't take away from the pride of this city.  You may think there is nothing to be proud of but there are a lot of fans that would disagree with you.  I talk to fans at games who have been season ticket holders for longer than I have been alive.  You would be hard pressed to find those fans in other cities.
We have a proud and amazing fan base.  And our team is still worth loving, even when we are losing.  What kind of fans just get up and leave the team they say they love because they have been have a hard year or two?  Not any good fans that I know.
I say someone has a coup on him.  Take over his spot.  Does the movie Airheads come to mind for anyone?  He reminds me of Michael McKean's character (Milo Jackson).  The scum of the radio, just in it for himself.
It's time to get a new post game show.  One the fans can be happy to listen to on their way home from a game whether we win 12-1 or lose 14-0.  A post game show should reflect the team and the fans.  Craig Schaller's show represents neither.  I hear the contract for this show is up this year.  I really hope the Amerks start looking for new options now.
I hope that the Monday night radio show is just a test for what they can do for the post-game shows starting next season.  If not, I am going to have a fit.  More than I just did now.
There are hardly any listeners for Craig anymore as it is.  The only people who call in talk about fantasy football among other things that have nothing to do with the Amerks or even hockey at all.  And people who used to listen to him?  A member of the RochesterSportsFan website had this to say, "I'd rather jump into a sewer then listen to Craig Schaller."
And Craig, I hope you read this yourself.  No one is patting you on the back for a job well done…well, maybe you are.  You should just go back to being the voice of the Indians.