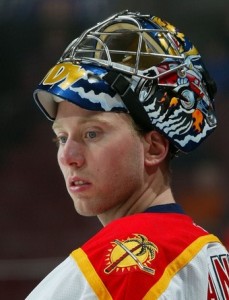 Craig Anderson just keeps showing us Amerks' fans that he was the real reason the Amerks made it to the playoffs in the 2006-07 season.  And with a more skilled defense in front of him (or maybe a few goals scored in the series), the team could have taken out the Hamilton Bulldogs…and the rest could have been history.
Last night in a game against the Ottawa Senators, Anderson made 41 saves (including some amazing heart-stoppers in the 3rd period) to steal the game.  He stopped 26 shots in the 3rd period alone, taking goal after goal away from Alfredsson who time after time stood their in disbelief, as if he had his soul taken away from him.  Of course, the best save of the game was the glove-stretching save on Antoine Vermette with 1:09 remaining.
Weiss knew that Craig had a lot (if not nearly everything) to do with the Panthers' win last night.  "Obviously, Andy was big for us tonight. It was one of those nights when he was on."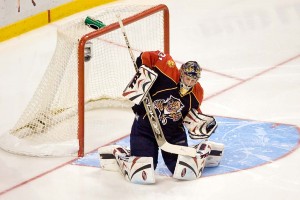 Anderson just continues to impress me.  Last season when he had two shutouts in a row with just about 40 shots per game or maybe more (I don't remember…I could look though…just call me Craig Schaller)…  That wasn't so hard.  On March 2, 2008, Anderson made 53 saves in a 1-0 win against the New York Islanders (the most in a shutout since shots on goal started being kept in the 1955-56 season).  Only two days later he made another 40 saves in a 1-0 win over the Boston Bruins.  That's 93 saves in two games.
I am hoping Anderson gets a lot more starts this season.  He truly deserves it.  He continues to prove himself time and time again.  He is a fantastic goaltender and I wish I would have given him more credit when he was here.