Here we are again at the arena (my son's favorite thing to do on a Thursday morning).  Practice isn't under way yet, but there is someone on the ice…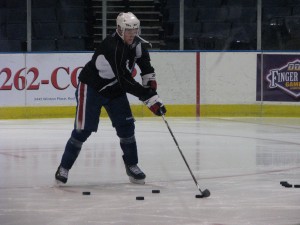 Jordan Henry is skating by himself right now.  Doing some good ol' fashion skating drills on his own.  He looks pretty good.  Hopefully, that knee sprain is getting healed up nicely.  He left the ice before Bob Janosz came out so, I am assuming at this point that he isn't going to be skating with the team still.
Some new additions to the ice today.  Rory Fitzpatrick is practicing with the team today.  Let's hope we see him on the ice tomorrow.  He may not be the best defenseman in the world, but he is our captain and our team's elder and that is needed on the ice for this winless team.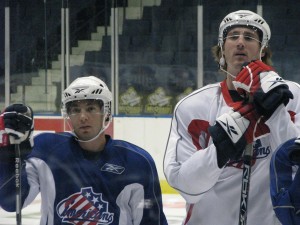 Also on the ice today is Karl Stewart.  His immigration problems must have gotten resolved like Tyler Plante said they would.  Lastly, the newest member of the Amerks' squad, Jacob Micflikier is here and ready to play.  Doning the number 41, let's hope he has more heart than the 41 before him.  It's funny to see him standing right next to Emmerson on the ice.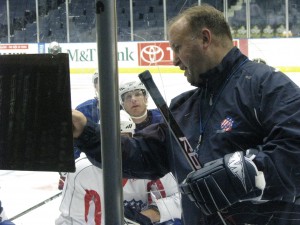 It's amazing how the tone changes when Benoit's skates touch the ice.  Guys who were screwing around a little bit while warming up immediately fall in line and start working harder.  Right into practice no more fooling around.
It looks like the guys are going to be having a scrimmage today.  Instead of wearing black practice jerseys, the defensemen are wearing either white or blue just like the forwards.
Well, they aren't scrimmaging really…they are, however, working on their powerplay and penalty killing skills.  Something that has clearly needed work since the very first game. 
Michael Duco is so fast.  He gets the puck and before you know it, he is all the way across the ice one on one with the opposing goalie.  He needs to make more chances like that during gameday situations.  I'd like to see him score some short handed goals this season.  I know what you are thinking, "Don't you want anyone to score any kind of goal right now?"  Yes, I do…but, I also like to look on the positive side and assume that we are going to get our scoring started this weekend, beginning with tomorrow night.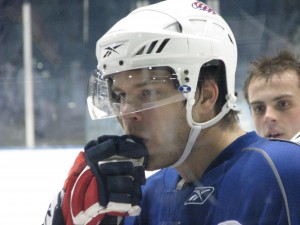 O'Brien and Sprukts are once again giving pointers to Matthias.  Telling him where to place the puck on the dump in when they are on the powerplay.  Sounds like good advice to me, Shawn should take it. 
Garrison just took a huge shot from the point.  It's nice to have a guy with a powerful shot who isn't afriad to use it.  He has already found the back of the net once this season with this shot, if he keeps it up he will continue to be the Amerks' point leader even as a defenseman.  He took another shot and broke his stick in half.
The powerplay group of Mattias, Sprukts, O'Brien, Garrison and Repik looked really solid out there.  More than any other group so far.  Great puck movement and good clean shots on goal.  No shots taken just for the sake of shooting the puck.  Looking good.  I would expect them to be our first powerplay line tomorrow.
I have watched a lot of groups on the ice today and still the only one making plays that I remember is the group I mentioned above.  The penalty killing is going well though for all parties involved.  As I said before, Ducp can get the puck out of any situation very easily.  He should always be on the first line for the penalty kill.
Fitzpatrick doesn't seem to be having any problems keeping up with the rest of the team, so I am going to have to assume that he is going to be ok to play tomorrow and that is something I am very happy about.  Stefan Meyer is also looking good and ready to go.  We have clearly been missing his presence on the ice.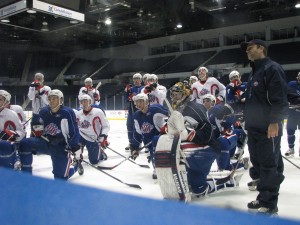 Of all the practices I have gone to so far this season, I haven't seen one practice where there has even been one minute of goofing off once practice starts.  I am loving this coaching and I really think this hard work is going to pay off in the end.  Remember fans, the season is a marathon, not a sprint.  Five games isn't very many when it comes to a hockey season.
As this practice ends, I must remind everyone to come down to Blue Cross Arena tomorrow night as the Amerks continue to strive for their first win of the season.  The game against the Quad City DJ's (I mean Flames) begins at 7:35pm.  This is the first of three games for the Amerks this weekend.
We need to get some weekday games soon or our guys are going to die from this three games in three nights business.