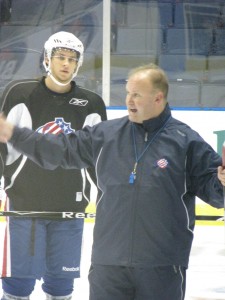 The team is working in smaller groups today.  Right now half the team is sitting on the bench while the other half practices puck movement.  It is very informative.  They are really getting some good passing and scoring going on.  Kenndal McArdle, once again, can stick the puck anywhere he wants to in the net.  In the smallest hole between the shoulder and crossbar.
But, Kenndal was just told "Don't go below the dot to take your shot, if you do that, you won't be on the power play." 
This drill looks fun to me.  But, they are learning some great plays for the powerplay.  I hope Toronto takes some stupid penalties tomorrow, I would like to see how this translates to the gameday situations.  Repik looks great out there.  It looks like the first line of the PP will be:
Repik – Meyer – McArdle        Fitzpatrick-Garrison
Repik was being switched in and out with Karl Stewart.  Both looked pretty solid, but Repik looked better by a small margin.  Either way this top power play squad seems like a good choice to me.  Obviously, I am far less knowledgeable than Benoit…so, his choices will most likely make sense to me most of the time.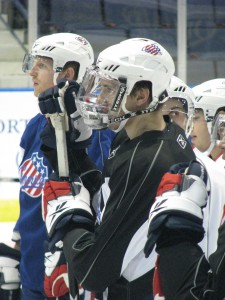 Something clearly happened to Keaton Ellerby's face during the second practice yesterday morning.  He is wearing a full face shield and his upper lip looks pretty gross.  But, it isn't anything that will make him not play tomorrow night.  If he isn't playing tomorrow night, it's because he doesn't deserve to.  *Note* As it turns out the answer was in Kevin O's blog.  Keaton was hit in the face with two high sticks during yesterday's practice and had to go to Strong to get stiches in his upper lip.
The only two people not on the ice again today are Janis Sprukts and Jordan Henry.  But, no one expected Sprukts to be since it was already said he won't be playing this weekend.  Just as we get Meyer back, Sprukts is out.  I am doubting he will be out for an extended period of time.  He is still just day-to-day.
No one seems to know how long Henry will be out, but it's not like we are dying for him, we already have 8 defenseman, and I really don't think he would be better than anyone else out on the ice.  Although, at the end of last season he started taking people out on the boards.  That isn't any indication of his skills as a defenseman though.
 It looks like I lied.  Shawn Matthias is no where in site.  Where is he?  Word is he is in Florida on recall.  Yep.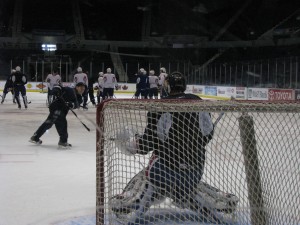 The goalies are down on one end of the ice working with Bob Janosz.  Tyler Plante looks much faster than Chris Beckford-Tseu.  That could be why he is getting the nod for Friday night's game against the Toronto Marlies. 
The rest of the team is working on digging in the corners again.  Maybe this time it will really get banged into their head and they will fight for the puck in the corner.  No more pansies.  Not allowed.  This six game home stand is where they decide if they want to be in the basement all year or are ready to climb out.
Jordan Henry just came out to sit on the bench in full gear with everyone else.  Is he actually going to try to practice with the team?  Only time will tell.
Little Jacob Micflikier keeps scoring goal after goal.  Looking brilliant.  How this kid got cut for a few weeks is beyond me.  I'm sure the Amerks wanted to try out the Panthers' players before benching people like Dan Collins and bringing in someone who can play.  The Duco-Brine-Micflikier
Jordan Henry never practiced but, as the guys stretch out and finish up he is out there skating around getting warmed up.  he is day-to-day now.  So, maybe he will be back soon.  Adding a 9th defenseman to our extreemly large team (although, not awesome) team.
I am very excited for tomorrow night's game.  I have been watching these guys work harder and harder every day this week.  And while it has been said before, "we have a lot of practice heroes," these guys are showing true heart out there on the ice and it has to pay off.  It just has to.
We do have talent on the ice, that can't be denied by anyone.  well, it could be, but that doesn't mean that they are right…just angry about the way the beginning of the season is going so far.