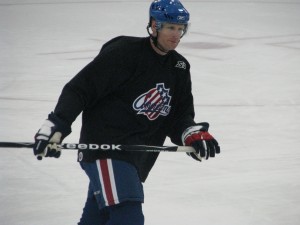 The day you have all been waiting for is here.  Rory Fitzpatrick has returned from his head injury and is practicing with the team.  Peter Aston is also back on the ice today after a day off with a sore hip.  We have eight defensemen on the ice now.  A nice sight to see.
The atmosphere is much different today.  There is no yelling and screaming, everyone is back on track.  The team has clearly taken what Benoit said yesterday to heart.  Everyone is working their hardest while still having fun (not too much fun, but celebrating when they score a fancy goal or something).
Like a few people who read yesterday's article said, Benoit can't yell at them everyday or the players will just start to tune him out.  It clearly seems like he knows how to run a team.  I still can't believe the difference between this year's practices and last year's.  It's like night and day.  You won't see any strip shootout games happening this year.
The players appreciate a coach who treats them like men and not like children.  Like Drew Larman said last night at the library, they deserved the treatment they got yesterday.  No one was good this weekend and no one deserved to be forgiven for Saturday and Sunday's games.
Riley Emmerson just scored an awesome goal.  And I mean that in all seriousness.  He foiled Tyler Plante big time after he got a very crisp, clean pass from Mike Caruso.  Nice one Riley!  I even cheered for him.  Hopefully not too loud, I don't want to distract anyone from practice.
The guys are really hitting each other today.  No more pansy stuff in the corners.  There is even a little bit of anger in their play, even in practice.  Stefan Meyer and Peter Aston got into a little tiff after Stefan hit Peter really hard into the glass.  Anger is good.  This team needs to be angry.
Benoit is keeping them on track throughout practice as usual.  He got a bit upset when some of the players weren't talking to each other out there.  It may seem elementary, but he is making sure the guys use real words to tell their linemates what they want.  "I got it" "Here" "Yours."  All good things.  You can't just bang your stick on the ice and expect a pass to be made to you or to think your linemates can read your mind…they can't.
God Kenndal McArdle is fast.  And he just had a perfect wrist shot top shelf.  What a nice goal.  Looked a bit like the one he had on Sunday.
That is really all I have for today, practice is cut short for me today.  I have to go pick my son up from school.  Expect a longer practice review tomorrow when I get to see the whole thing.
It's almost game time boys.  Get angry, get physical, and most of all…get goals.