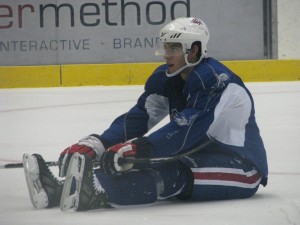 After a 5-2 loss to the Toronto Marlies last night, the Amerks are back on the ice preparing for their second game of the weekend tonight against the Hamilton Bulldogs.  The Bulldogs are hot right now, and if the Amerks think they are going to get a win out of them they need to play better than they did last night.
An improvement for the Amerks is that the Marlies didn't score any 5-on-5 goals.  All their goals were while they were on the powerplay (the last goal was an empty netter).  But, the Amerks only had 1 shot on goal in the second period.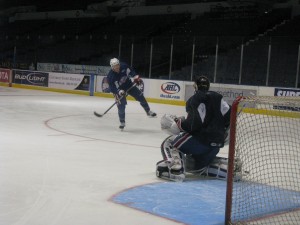 I am hoping Tyler Plante starts again tonight.  He looked good last night.  He made some amazing saves including one where he had no stick and ninja kicked the puck out of the air.
Jordan Henry is one of the first out on the ice today.  Maybe this means he will actually be doing a full practice with the team today.  It would be nice to see him back if he can add something we don't have right now.  Which wouldn't be hard.  But, if he sucks just send him and MacDonald back to the Blades.  Although, it is nice to have an group of defensemen who constantly have to be fighting for a spot in the lineup.
Riley Emmerson was on the ice for about ten minutes then left.  He took both of his sticks so I guess he is done for the morning.  Get on and get off.  I want to see him in the lineup tonight.  The home crowd needs to see him fight.  They need to see him take on someone.  We want to see what the Amerks are paying for.  Show us why you signed him!  We want to see fights!
I don't know if today's skate is optional or if they are just slow getting out here but, there aren't many guys on the ice.  David Brine, Luke Beaverson, Jordan Henry, Peter Aston, jason Garrison, Andrew Sweetland, Mike Caruso, Brady Calla, Franklin MacDonald, Dan Collins, Chris Beckford-Tseu and Tyler Plante are the guys on the ice.  They could just be the early birds though.  I might have had the time practice starts a half hour off.
I don't understand why anyone on this team would have the option of not doing a game-day skate today.  It would seem that they should not only be having  game-day skate, but the guys who are being scratched tonight should be having a full workout.
Jordan Henry is doing all the drills with the guys.  So, that's good.
I don't know why Stefan Meyer isn't here.  After the game last night he said, "You can tell I hadn't been skating for weeks."  Yes, we could tell…so, you should get here and practice harder.  If you want to be a leader on this team, get here and lead.
I know there could be a reason why they aren't on the ice.  Maybe they rest of them are in the back talking about what they have to do and they will be out next.  But, as for this very moment at 11:31 a.m. on this Saturday morning, I am angry.
I want to see a win tonight just like everyone else who loves the Amerks.  But, what I don't want to see is the junk I saw last night out of two drunk fans.  There is no need to come down to where the players go to the locker room to curse at them on their way in.  There are kids who sit down there who idolize these guys whether they win or lose…they are not fair weather fans.
In fact, my four-year-old has a season ticket right where he can high five the players between every period.  He loves the Amerks, he loves them even if they are 0-80 for the season.  He thinks they do a good job no matter what.  And having some crabby drunk guy come down to where he sits yelling nasty things to the players where they can't say anything back is spineless.  Come out back after the game and say what you have to to their faces.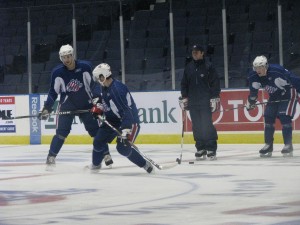 Most of the guys have left the ice now.  David Brine is feverishly practicing tipping the puck in when he is in front of the net.  The defensemen who are left are doing skating drills (Peter Aston, Jordan Henry, Luke Bearverson and Franklin MacDonald).
The few left are about to have a nice little scrimmage.  Defensemen vs Forwards.  So, these are our scratches for the night.  Tyler Plante, Luke Beaverson, Franklin MacDonald, Jordan Henry, Brady Calla and Dan Collins.  Jason Cipolla is playing on the Forward team.