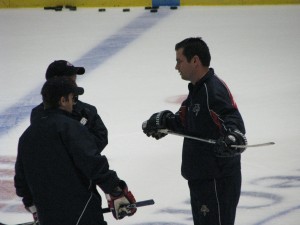 Jody Gage was just on the bench talking first to Jacob Micflikier and then to Andrew Sweetland.  I don't know what that was about, but if they are going to send Micflikier away it would be a crying shame.  He is a bright spot on this team.  Andrew Sweetland I often forget exists, so if he is going to the ECHL or something, I wouldn't be surprised.
Jordan Henry is out with the team for a full practice today.  He is expected to return to the ice for Friday's game if he makes the lineup.  Personally, I would like to see more of Luke Beaverson on the ice.
Janis Sprukts is also on the ice today.  He is wearing a red jersey though, so he is probably not playing full contact just yet.  It will be good to have him back on the ice for games though.  Although some fans don't think he has been living up to his signing yet, he is a player who can calm things down when they are getting a bit out of hand.  And he was gelling well with Matthias and Repik before his injury.  Well, that was a quick practice for Sprukts, he is already off the ice, just checking out how his leg feels I guess.  Get well soon Spruktzy.
Not on the ice is Karl Stewart.
There is someone here on the ice in Panthers' warmups.  I can't really see his face but, I am going to try to figure out who he is.  It looks like he is Panthers' goalie coach Pierre Groulx.
After a good showing on Sunday night, the Amerks are right back into practice.  Tyler Plante looks confortable in net today as he should.  If this weekend was any indication of what's to come, Plante is (and should be) our #1 goaltender for the season.  He looked solid all weekend.  There were no 5-on-5 goals on Friday night, and on Saturday when Chris Beckford-Tsue couldn't handle the pressure, Plante came in and allowed no more goals.  If Plante had started on Saturday, I am almost possitive the Amerks would have walked away from the game with at least one point.
Am I dissapointed that Beckford-Tseu was signed by the Panthers?  Yeah, a bit.  I don't think he was anywhere near ready to be considered a #1 goalie at the AHL level.  The Panthers made a bit of a blunder there.  Hopefully, he can shape up during the season.  He seems like he has the skill to be a good goaltender, he just isn't there yet.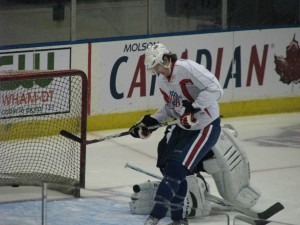 Riley Emmerson has a great work ethic.  He knows he is only on this team to fight, he isn't stupid but, he works harder than almost everyone else to improve.  He never slacks and although it takes him a few extra strides to get his gigantic body going, once inertia takes over he is pretty fast.  He can stick handle pretty well and he never gives up on a drill until he gets the puck in the net.  I like his motivation.  Hopefully, it starts to spread like wildfire (not that the rest of the team is lacking motivation, they are very motivated…but, Riley puts everyone to shame with the way he works).
Something that Franklin MacDonald is quite good at…forechecking.  We need to see more of it during the games Franklin.  No one who goes against him even gets the chance to shoot.  He takes the puck away everytime.  Where is this MacDonald when gametime rolls around?
Kenndal McArdle is looking faster and better everyday I see him.  I know I must say this all the time, but I can't help it.  Last year people were so dissapointed in him.  I don't think they can be this year.  He is playing his butt off and it shows.  His wrist shot is just amazing.  He can put it anywhere in the net he wants to.  For anyone who was at the Hershey game or watched it on AHL Live, you got to see that he has amazing aim.  I want Kenndal to get more playing time.  He really deserves it.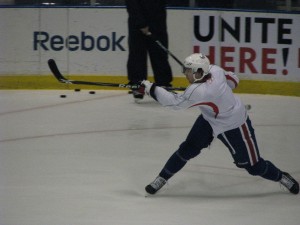 Stefan Meyer is working extra hard today.  He is on point and working well with Micflikier and Matthias.  They all seem to be at the same speed level (Micflikier a little faster than the other two) and they communicate well.  They aren't afraid to get dirty in the corners.
Plante just keeps denying everyone today.  He must be feeling pretty good about himself, as he should.  He is a brick wall out there.  Maybe all he needed was a bit of confidence.  Let's see how it plays out on Friday night when we take on the superior Manitoba Moose for the 3rd time this season.
The Moose just added left wing James Neil and defenseman Mark Fistric.  They are on loan from the Dallas Stars who have their prospects all over the league this year as they wait for their new arena to be build in Texas to put their AHL team in.
Just a random little improvement about the arena that I noticed to end today's practice.  The toilet paper this year is actually useable.  Last season it was like a half-ply toilet paper that turned into dust when you would rip some off.  As a female, I am very excited about this improvement.