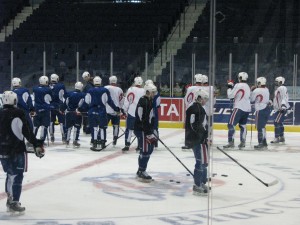 Karl Stewart is out on the ice taking some shots today.  Not game ready though…he is in his warmup pants.  I expect him to be ready for Friday's game.  But, that's just me.
Jack Birch is here watching the team.  I sure hope he doesn't think because we played one good game on Saturday that we are fine and just need more time to work on our problems.  Come on Jack…it's overhaul time.  Instead of watching practice, why don't you get on the phone and make some calls right now.  Everyone's agents are working by 10 a.m.
Riley Emmerson continues to impress me with his work ethic.  You can tell he doesn't just want to sit there and be a goon.  He is working hard to get himself onto the 4th line and get some ice time.  We saw him getting more ice time on Saturday and he didn't screw up royally.  We asked Benoit Groulx about Emmerson getting more ice time, of course he stated the obvious that it depends how the game itself is going.  "His role is to have a presence, but as he improves his skating and continues to check more he'll earn chances at more ice time.  He's still getting used to playing at this level, it's taking time but he's working hard," Groulx said.
Emmerson played better on Saturday than Dan Collins did on Friday against the Moose…which reminds me…why is Dan Collins still on our roster.
Dan Collins, to me at least, is the biggest waste of roster space we have.  When he actually plays, he screws the pooch every time he touches the puck.  I remember last season when in the first five or so games, I thought he was going to be the rookie of the year.  He came out so strong…then disappeared off the face of the earth.  He did have a back injury last season that may have never cleared up.  But, he still doesn't belong here.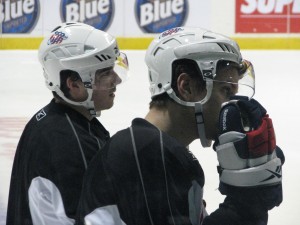 The Amerks currently have an abundance of players, especially on defense with nine players.  Benoit said, "there'll be changes very soon."  I would expect Dan Collins to be on the chopping block along with Brady Calla, Luke Beaverson, Franklin MacDonald and maybe Andrew Sweetland.
I want to see more of the Janis Sprukts I saw on Saturday night.  That's the guy I remember from two season's ago.  All over the place…hitting anything in a green jersey, being the guy the team has been waiting for.  This is obviously the first time this season he has been completely healthy.  He had an injury during the preseason that never went away.  He is currently chugging down the ice like a train.  No one can stop him.  I forgot how fast he is.  Stefan Meyer is always happy to talk about Sprukts.  You mention his name around Meyer and his face lights up like a kid on Christmas morning.  "Sprukts is just a very smart player," Meyer said.
Meyer said that he is feeling great now, and he looked it during practice today and on the ice on Saturday night.  Back to the form I like to see out of him.  I have high expectations for Meyer, so when he doesn't perform I get rather aggitated.  "We need to play more like we did on Saturday night and not change a thing," Meyer also commented.
Everyone on the ice seems to be in a fairly good mood today after a good solid win on Saturday against the Houston Aeros.  That win can go a long way for a team like this.  Giving them more confidence in themselves and each other.  Hopefully, that win is going to transfer into tonight's game against the Moose.  I know that if whoever is in net can pull off some good saves, the Amerks can walk away from tonight with a win.
The defensemen are working on their shots from the point.  Groulx is working with them and tossing pucks that them from everywhere.. slow moving.. off the boards.. from behind the net.. along the boards.. different than the usual pass pass shoot.  They need to not only keep it in, but make a fast transition to pass the puck to their defensive partner so they can get a clean shot off right away.
Defenseman and team captain Rory Fitzpatrick said that a little momentum is what a young team like this needs to get it going.  The win against the Flames wasn't a pretty one.  The first solid win of the season was on Saturday night against a team that, on paper, should have rolled over our young, unexperienced team easily.
Mike Caruso wasn't on the ice today because of a shoulder injury.  Look for O'Brien during the game to fill that void.
The Amerks take on the Manitoba Moose for the second time in four days tonight.  The puck drops at 7:05 p.m.  Tomorrow is Veterans' Day so, let's celebrate by watching some Americans' hockey.