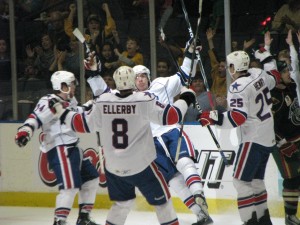 Tonight, the Amerks finish their six game home stand against the defending Calder Cup champions, the Chicago Wolves.  The Wolves have only let in 20 goals in their first 13 games…so, this is not going to be an easy task tonight.
Rory Fitzpatrick, Kenndal McArdle and Janis Sprukts are not on the ice right now.  The guys practiced extreemly hard all week and Kenndal wasn't feeling well yesterday.  According to Stefan Meyer, Sprukts will be in the lineup tonight.  I am assuming Rory will be too, but he probably needed some recovery time from yesterday's practice too.  I don't know about Kenndal.  It depends if he had a cold yesterday or the broncitis that has been going around Rochester.  Today's skate was optional, so any missing people are probably just getting ready for tonight by not killing themselves in the morning.
Tanner Glass is diligently working on tipping the puck in.  He's been working with Ellerby, Garrison, Beaverson and MacDonald for the past ten minutes.  Hopefully, he can get it right during the game.  I'm certainly glad that Tanner's injury from Monday night didn't keep him out of this weekend's lineup.
As Jason Cipolla was just talking about…tonight is a defending champions' night for the Florida Panthers organization.  Not only are the Amerks taking on the Chicago Wolves, but the Panthers are taking on the defending Stanley Cup champions, the Detriot Red Wings.
We all think that David Shantz won't be starting tonight.  Benoit made that pretty clear.  But, neither goalie knows who is starting tonight and Benoit wasn't at practice today to tell us (or them).