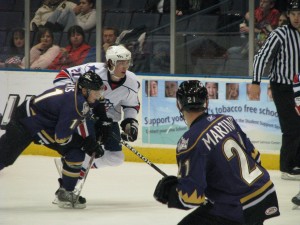 Shawn Matthias has been recalled by the Florida Panthers.  Although Shawn hasn't been playing exceptionally well with the Amerks, he also hasn't had much talent on his wings to help him at all.  Shawn has played all 19 games with the Amerks this season but only has 4 points (3 goals, 1 assist).
Shawn likes to give the opposing team the old razzle dazzle but, hasn't really been able to finish his plays as of yet.  Hopefully this trip to Florida is just what he needs to get back on track.  He has so much talent, and I want to see him be able to play to his ability.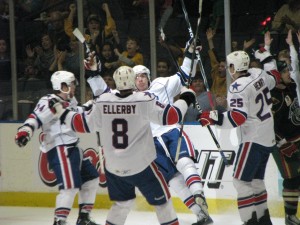 In his last game with the Amerks (Wednesday against the Toronto Marlies), Shawn played extreemly well.  As another Amerks' fan who was in attendance pointed out, there were many plays he was a part of that could have ended much better with more talent beside him.
He made one defensive play that really stood out for me. He came all the way from behind the Marlies' net to pick up a guy in the slot just as a pass was coming to that guy. It would have been a solid scoring opportunity if he didn't tie up that player as well as he did.

He also cycled the puck very well in the Marlies' end. He also consistently found "the open ice" in the offensive zone when he didn't have the puck. Too bad that he didn't receive many cycled or setup passes while in those positions. Can't blame him for that.
I really hope the Panthers aren't going to keep him all season like they are doing with Frolik.  Really, if Frolik were in Rochester with Matthias, I believe they would be lighting it up together.