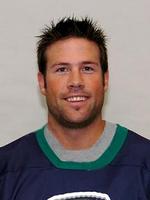 Right Winger, Kevin Baker, has been recalled by the Rochester Americans.  Baker was just named ECHL's Player Of The Week.  If he can transfer to the AHL well, Kevin has a real chance to make a big difference for the Amerks.
Bakers numbers this year are great.  He has tallied 25 points in just 15 games, getting 11 of those points in the last three games alone.  Last season, he played 44 games in the ECHL and had 56 points (29 goals, 27 assists).
Kevin has a little bit of experience at the AHL level as well.  In the 2006-07 season, he played nine games in the AHL (2 with the Milwaukee Admirals, 5 with the Toronto Marlies) where he had 2 goals and 3 assists.  In that same season, he played 62 games with the Texas Wildcatters of the ECHL.  There he had another 81 points (36 goals, 45 assists).