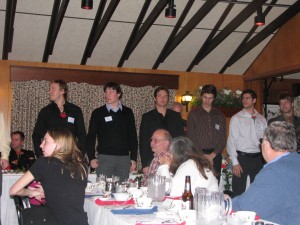 The Rochester Americans Booster Club held their annual Meet the Players Dinner at the Carriage House in Chili on Wednesday night, it was a great way to get to know the team and meet other fans.
I wasn't sure if I'd have a good time or not, but it was a lot of fun.  I had never been to one of these dinners, if you're in the same boat as I was make sure to go the next time.  Also, don't be afraid to introduce yourself to others, everyone is an Amerks fan.  The more we get involved the more I notice how close the community is in friendships and dedication.
The night started with a cocktail hour followed by a sit down buffet dinner.  The players were spread out around the room ensuring that no matter where you sat you would be nearby someone.
We sat next to Keaton Ellerby and Michal Repik, both are funny guys.  They kept us more than entertained throughout dinner.  Not much was actually discussed regarding the team on the ice.
At events like this many people seem to think that the players are either keeping to themselves, or not very friendly.. that may be the case with some, but you know more about them than they do about you so don't be afraid to approach them to start a conversation.  You may quickly find that you have a lot to talk about, or reason to boo them even more if they continue ending up in the penalty box (Jordan Henry)!
Rory Fitzpatrick, Lewis Staats and Jason Cipolla thanked everyone for coming and stated that they believe the team has rounded a corner after a very bad start to the season.
Only comment I disagreed with was when Staats told the players that it's "only a game, have fun."  Actually, it's their careers.  I tell my 4 1/2 year old "it's only a game" when we're playing Mouse Trap or Candy Land and he loses.
After dinner all of the players were introduced with a brief history of their career up until this point.  After that they all sat down so people could make the rounds getting autographs with them all at once.
After autographs, the rookies (most of the team) did their rookie dance.  Then people paid money to dance with their favorite players.  That just about ended the night.
The event was similar to last years, and probably all other years as well.  This was my first year going, and probably will continue going every year that my work schedule allows.
Not in attendance: Tanner Glass because he had an appearance for the Reading Power Play program.. Jody Gage and Benoit Groulx were in Elmira scouting the Everblades.. Dan Collins was sick.. and not sure where Curt Styres was.