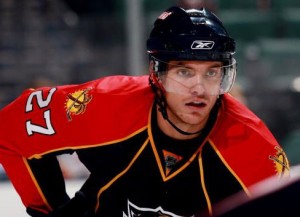 Florida Panthers defenseman Noah Welch was assigned to the Amerks for two weeks of conditioning.  Welch has only played in 14 games for the Panthers this season during which he recorded one goal and one assist.
Welch played in only four games during the 07/08 season due to a shoulder injury he suffered last October that kept him sidelined due to injury.
Having Welch should help a struggling defense.  While it's talked about over and over about the team needing a goal scorer, I think solidifying the defense would be a better way to start.  Our team is full of players that should be scoring goals but aren't, maybe this is also an experiment to see if investing in the defense will be a turning point.
Welch is expected to play against the Iowa Chops on Friday night.
A player can take a two week conditioning trip to the AHL without having to clear waivers as long as the player agrees to it, and if questioned the team can prove he needs it.