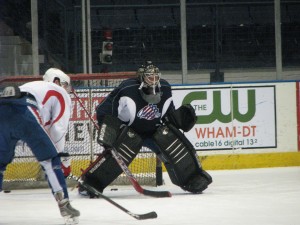 On Saturday morning at the end of practice Benoit Groulx let newcomer Mike Brodeur know that he would be getting his first start tonight at home against the Albany River Rats.  Brodeur was signed to a 25 game PTO on Thursday from the defunct Augusta Lynx.
The distant cousin of Devils goalie Martin Brodeur could be our only hope at this point.
On Friday night the Amerks lost 4-1 against the Iowa Chops.  The team was slow out of the gate and it cost them big time.  The Iowa Chops scored only 28 seconds into the game.  Less than seven minutes later with Jordan Henry in the pently box the Chops scored a power play goal to make it a 2-0 game.  This threw the whole first period into a downward spiral.  They just couldn't keep up with the Calder Cup Finalists (the Iowa Chops were the Portland Pirates of last season).
Thankfully the Amerks will have two of our top points leaders in Janis Sprukts and Kenndal McArdle back in the lineup after short call ups to the Florida Panthers.
Sprukts had been called up on Saturday morning, he played in the Panthers loss against the Bruins on Saturday and had 12:19 of ice time with one shot on goal.  Kenndal McArdle put in 11:08 of ice time during the same game as well as one shot along with a tripping penalty.
It appears as if Mike Duco will still be out of the lineup with a groin injury.  He's been one of our hardest working forwards, too bad others have not been able to play the same way.
Let's hope some players who have not been scoring find a way to do so and newcomer Brodeur is just like his distant cousin and stops just everything fired his way.
The River Rates are currently 6-2-1-1 in their past 10 games.
The Amerks are 1-7-02 during their last 10 games.
Randall Gelech is yet to produce.  When he was signed a week and a half ago this quote was in Kevin O's blog:
"I was playing good minutes, playing a lot, and then in one game against Rochester I played a realy strong game but I took three penalties that cost us," Gelech recalled. "The next day I was on the fourth line and it went downhill from there."
Sounds like he was the guy really needed to improve things!
Let's just hope the team doesn't take on a 10 game losing streak like they did last December.  If we can squeeze out two wins this month it would be considered an improvement!
If anything you're almost guaranteed to see Riley Emmerson drop the gloves during the game.  As we were promised early in the season, "they guaranteed at least one rollover on race nights," and we've been getting it.
I've tried to paint a good picture for tonights game but am not finding a way, let's hope I'm completely wrong and things turn out much different than expected.