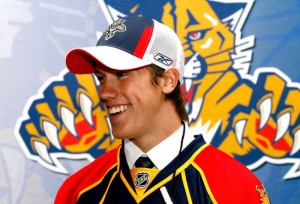 It'll be interesting to see how the Panthers play out the goaltender situation they have brewing.  Jacob Markstrom was drafted 31st overall in 2008 by the Florida Panthers and has been making an impression this year in the Swedish Elite League with his improved play.
Many are expecting the Panthers to start shopping Vokoun around as a trade based on the way Craig Anderson has been out-playing Vokoun.  If that were to occur they would need another goalie in return to backup Anderson.  Vokoun is signed through 2010-2011 and is making $5.7 million a year.  Craig Anderson becomes an unrestricted free agent after this season.  The Panthers have Tyler Plante, David Shantz, Chris Beckford-Tseu and now Mike Brodeur in the system, none which are ready to get called up to the show.
Maybe we'll see him here in Rochester next season?
Below is a feature article from NHL.com about the young goaltender.
Teenage goalie Markstrom making his mark

Wednesday, 12.10.2008 / 11:37 AM / Across the Pond
By Bill Meltzer  – NHL.com Correspondent

Conventional hockey wisdom has it that goaltending is the sport's great equalizer. There is also a time-honored belief that goaltenders mature later than position players, and teenage goaltenders in particular are hard to project several years down the line.

Florida Panthers prospect Jacob Markström has been proving the experts half wrong.

There have been many nights this season where the Brynäs IF Gävle goaltender has been the best player on his team. Brynäs is currently in fifth place in the 12-team Elitserien (Swedish Elite League), despite being the league's lowest-scoring team (70 goals in 31 games) and having an average defense.

Thanks largely to Markström's outstanding play, BIF is just four points behind the second-place Frölunda Indians. Markström ranks second in the league in save percentage (.927) and goals-against average (2.17), and is tied for the league lead with three shutouts.

It should be mentioned that Markström is only 18. Selected by Florida in the 2008 Entry Draft with the opening pick of the second round, the lanky (6-foot-3, 180 pounds on draft day) butterfly goalie has vaulted up the ladder with dizzying speed. In so doing, he has earned comparisons to the way the late Pelle Lindbergh became Team Sweden's senior national team starter at age 20.

In February 2008, Brynäs recalled Markström from its J20 (top junior) team. At the time, the club was in dire straights. The team had a revolving door of head coaches. It was hopelessly mired in last place and destined to play in the annual qualification series (Kvalserien) that sees the bottom two teams in the Elite League play a tournament with the top teams of the top minor league (Allsvenskan) with two Elite league places at stake for the following season.

Markström finished the season as BIF's starting goaltender, performing commendably. During Kvalserien, his play was the single biggest reason that Brynäs avoided relegation. In the nine-game series, Markström posted a gaudy 1.78 goals-against average, .931 save percentage and two shutouts. He even outdueled longtime NHLer Ed Belfour in a critical game between Brynäs and Leksands IF.

After a long season, scouts say he appeared fatigued at the Under-18 World Championships in Russia, where he struggled. Nevertheless, he was highly regarded entering the 2008 Entry Draft, and some observers were surprised that he slipped out of the first round.

"It wasn't that important to go in the first round," Markström told NHL.com. "Before the season, my goal was to be drafted by a NHL team, and I met that goal. Of course, you want to go as high as possible, but in the end it really doesn't matter. You just want to have the chance."

While it's impossible to assess a draft class until several seasons have passed, Markström has Florida Panthers fans excited about his potential. Over the course of the offseason and the first three months of this season, the confident youngster's game has improved across the board.

"I think I've gotten stronger, improved my stamina, (become) more flexible and more mobile," he says.

Markström started the 2008-09 season playing at a staggering pace that no goaltender could realistically sustain for an entire year. In his first nine starts, he posted a 1.54 goals-against average, a pair of shutouts and a .950 save percentage, lifting Brynäs to first place in the early going of the season. He started to grab headlines around the Swedish hockey world, but tuned out most of the hype.

"I very seldom look (at what's written)," he said. "Certainly you sometimes see the newspaper and read what's in there. But you can't let what they're writing affect you. It's on the ice that you prove yourself, and that's where my focus is."

Over the last couple months, Markström has continued to excel, only at a more sustainable pace. His backup, 20-year-old Nashville Predators prospect Anders Lindbäck (drafted in the seventh round of the 2008 draft) has gotten into nine games, posting a 3.05 GAA and .889 save percentage. Markström, who has already logged 1,409 minutes played on the season, is likely to see marathon minutes the rest of the season, so getting Lindbäck into the mix has helped to keep him a little fresher.

Of late, Markström has frequently been backed up by 18-year-old Philadelphia Flyers draftee Joacim "Sunshine" Eriksson. Like Lindbäck, Eriksson was chosen in the seventh round of the 2008 draft. He backed up Markström last season both on the Brynäs J20 team and for Team Sweden at the 2008 IIHF Under-18 World Championship. Eriksson has not yet appeared in an Elitserien game.

At the end of this month, Markström will attempt to lead Team Sweden to a medal at the World Junior Championships in Ottawa. Last year, highly regarded Buffalo Sabres prospect Jhonas Enroth was one of the stars of the tournament, leading the Swedes to a silver medal. Swedish national team head coach Per MÃ¥rts already has tabbed Markström as his starter for this year's tournament. Markström, who will turn 19 on Jan. 31, also is  eligible to play in the 2010 tournament in Saskatoon and Regina, Saskatchewan.

"Obviously, I'm looking forward to the World Juniors and hopefully we can do even better this year," Markström said. "The big thing for me is stay focused on each game, and not to look too far ahead."

Before Markström takes leave from Brynäs to play in the WJC, the team has a home game Thursday against ninth-place Modo Hockey Örnsköldsvik and road game in Stockholm Saturday against 11th-place Djurgårdens IF.

Currently there's a 10-point gap between third and 10th place in Elitserien, so a few consecutive wins or losses can radically alter the playoff picture. After this week, Elitserien goes on hiatus until Dec. 26, the same day the WJC begin in Canada.