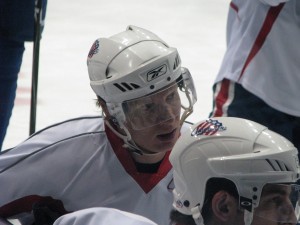 Greg Classen has decided to head overseas and play with the Iserlohn Roosters (DEL) rather than accept a contract from the Rochester Americans.  The Amerks were the third team he was a part of this season, the Providence Bruins and San Antonio Rampage being the other two.
At least one positive thing can be said, management has made efforts to improve the team since around the 20 game mark when they said they would.
Here's the official press release:
For Immediate Release

December 19, 2008

AMERKS RELEASE CLASSEN FROM PTO

FORWARD TO PLAY OVERSEAS WITH ISERLOHN ROOSTERS (DEL)

(Rochester, NY)… Rochester Americans General Manager Jody Gage announced today that the Amerks have released forward Greg Classen from his 25-game professional tryout (PTO) and has signed with the Iserlohn Roosters of the DEL.

"It's unfortunate to lose a player like Greg, but it's also extremely difficult to hold a player back from making a career decision," said Gage. "We did offer him a standard player contract, but what it came down to was Greg making a career decision that he believed to be within the best interests of his future as a player."

Classen began the 2008-09 season with San Antonio Rampage, where he scored two goals and five assists for seven points in 19 games.

A native of Aylsham, Saskatchewan, the 31-year-old veteran centerman has skated in 321 career American Hockey League contests with Milwaukee, Manitoba, Providence and San Antonio, collecting 184 points (77+107) and 318 PIM. The 6-foot-1, 195-pound forward had his best season in 2005-06, collecting a career-high 24 goals and 50 points with Milwaukee. He also captured the Calder Cup in 2003-04 with the Admirals.

The nine-year pro made his National Hockey League debut with the Nashville Predators in 2000-01 and has since appeared in 90 games, picking up seven goals and 10 assists.