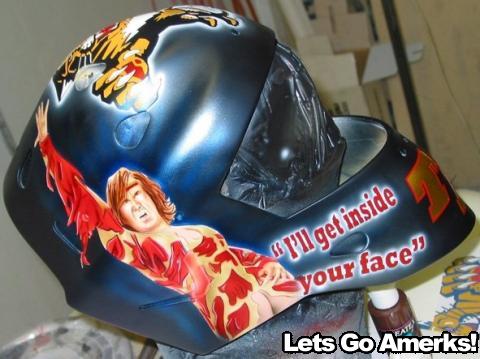 It seems like Top 10 posts are the popular thing to do, and why not, looks back at what people seemed to find the most interesting.  In 2008 the Amerks at one point were a team with an uncertain future due to a lack of ownership.  That was solved, here's hoping that "new day for a Rochester tradition" is accomplished in 2009 with a successful team on the ice.  We'll be out of town for a couple days, in absence of covering Wednesday mornings practice here's a list of the top 10 most read posts on this site in 2008:
10. Amerks Open Camp, Live at ESL!
The team opened training camp at the ESL Centre in Henrietta on September 30, 2008.. the day that the Edmonton Oilers claimed Steve MacIntyre off of waivers from the Panthers.  "Big Mac" was already on the ice for camp when he was pulled off and given the news.
9. Featured Player: Adam Dennis
This is something we need to do more of, it's the only reason I can think that Adam Dennis and Dylan Hunter were considered amongst the top posts of the year.  It's not like either of them has busted into the Sabres lineup.
8. Featured Player: Dylan Hunter
See above!
7. NY Times Article on Amerks Owner Curt Styres
At the time it was the most any of us got to know about Styres.  As noted in the last paragraph of the article, Styres dreams big.. he still is which is great, here's hoping it really happens in '09.
At the end of practice you had to score a shootout goal, if you did you got to leave the ice, if you didn't you had to take off a piece of equipment each time you failed.  Watch the video.  If kids weren't in the bleachers who know where this would have gone!
5. Sabres Affiliation 'Days Away' from Being Over
In June 2008 it became official that the Sabres and Amerks were ending a 29 year relationship.
4. A Day at Florida Panthers Rookie Camp
This was the first real look we had at our current team, it was worth the long drive and we plan on doing it again this year.
3. Rochester Americans Future Still in Question
In March 2008 no one really knew what the future of the team was, especially at the height of the Rhinos/Paetec Park/City of Rochester fiasco going on.
2. Skating With The Players At Blue Cross Arena
Short and sweet post, but it appeared to be something a lot of people were interested in!
1. New Goalie Helmet for Tyler Plante
Tyler Plantes' goalie helmet is unique to say the least.  He's currently playing for the Dayton Bombers in the ECHL.  Given the popularity of this post, I'm going to try and capture more images of goalies helmets as they pass through town.  Many are boring, some seem very interesting!
There you have it, the top 10 read articles of 2008 on Lets Go Amerks!  If you have any ideas of something that could make the list in '09 please use the contact form or leave a comment below!