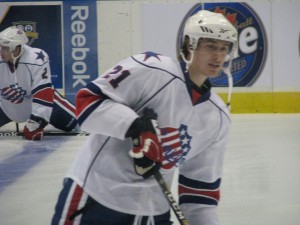 The Florida Panthers sent Shawn Matthias back to Rochester after one game in Long Island against the Islanders.  He should either be with the team as they travel to Winnepeg, or will be meeting them there.
Matthias was on the ice for ten shifts that totalled an amazing 4 minutes and 14 seconds of ice time.  Apparently he was called up to show some of the other Panthers that they can be replaced, or something to that effect.  If that's the case, one has to wonder what they're thinking by putting Matthias up there.  He was expected to be highly productive and hasn't even come close.
Recently coach Benoit Groulx made Stefan Meyer a healthy scratch in a game against the Grand Rapids Griffins for not doing as much as he should, if that's the way things are going to happen it seems as if Matthias should be the next player benched for doing nothing.
It's gotten to the point now that any sort of rookie jitters or just not wanting to be here should have gotten out of his system… it's time to put some points on the board Shawn.. you know we're fans, now prove you can play.