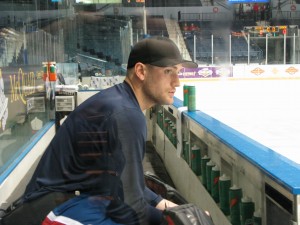 Finally, after wondering if this would ever happen, Mike Brodeur signed a one-year AHL contract with the Rochester Americans.
From Amerks.com
Rochester Americans General Manager Jody Gage announced today that the team has signed goaltender Mike Brodeur to a one-year standard American Hockey League contract.

"We're happy Mike was able to earn a permanent spot in Rochester and within our system," said Jack Birch, Director of Player Personnel for the Florida Panthers. "He has certainly shown he has the talent to play in the AHL and the potential to play at the next level."

"We're excited we were able to come to terms with Mike," said Gage. "He has done a lot to help this team turn around since his arrival here and his All-Star nomination is a direct indication that he is deserving of this contract."

The 25-year-old netminder joined Rochester in early December on a 25-game professional tryout (PTO) and since shows an 8-3-1 record with a 1.59 goals-against average and .944 save percentage in 12 games between the pipes for the Amerks. His two shutouts also tie him for third among AHL goaltenders. He has now started 12 of the last 13 games for Rochester, including nine straight.

The AHL announced January 6th that Brodeur has been selected as one of three goaltenders to man the pipes for the Canadian All-Stars in the 2009 AHL All-Star Classic. Brodeur was named the Reebok/AHL Player of the Week for period ending December 14, 2008 after posting a 3-2-0 record to go along with one shutout as the Amerks completed a stretch of playing five games in six nights from December 9th to December 14th.
All I can say about this is…thank God.  Mike has been the best thing to happen to this team since the day Craig Anderson walked out of the locker room for the last time.