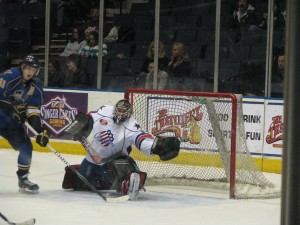 The Amerks beat the Syracuse Crunch 3-1 tonight in front of 6,310 fans.  Mike Brodeur showed, once again, why he deserved the contract that he signed today.  The boys in front of him didn't make the job too hard for him tonight either, scoring three goals and keeping play alive in the Crunch's end of the ice.
Tanner Glass fought Kevin Harvey two seconds into the game.  They had already gotten started before the puck dropped, but it took two seconds for the referee to understand what was happening.  Tanner left Harvey with a nasty cut over his eye.  When the fight ended, I asked myself…who is here that he wants to impress.  It was Jack Birch.  Saw him.
That was basically how the rest of the game was played.  A lot of hitting, a lot of play making and not a lot of mistakes.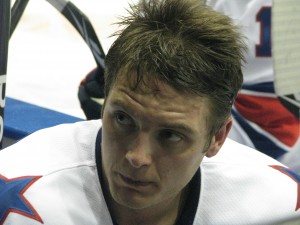 Stefan Meyer scored his 10th goal of the season.  He is really showing what he is made of lately.  He has always had the ability to be a team leader, but in the last 15 games he has really stood out a lot more.
Rory Fitzpatrick had a good first game back when he caught a giveaway in front of the Crunch net and slammed it home to make the score 2-1.
Michal Repik finished the game with a great goal.  Tanner Glass shot the puck in, it was knocked to the side by Dahm where Repik rifled it right into the top of the net making the score 3-1.
Kenndal McArdle decided to take on Harvey at the end of the game because aparently Harvey didn't get enough out of Tanner Glass.  McArdle gave him more than a few jabs to his already bleeding eye.  Point – McArdle.  I won't lie though…when I see Kenndal about to throw down, I get very nervous because of his jaw last year.
All-in-all it was a very good game for the Amerks.  It was also their third straight win (all divisional).  Imagine what this team could have looked like in front of a goalie like Mike Brodeur at the beginning of the season.
Let's all hope the Panthers don't screw up signing him long term in the off-season.  They have no other choice.  They have no depth at goal and Vokoun won't be too much help for the Panthers for much longer.  His contract is up after next season and with his back problems, I would be a little surprized to see him resigned.
Craig Anderson is the future of the Panthers and Mike Brodeur is the future of the Amerks.  Don't screw it up Florida!